INSPIRED BY THE WILD
Fitness weekends and holidays in the wild
Fitness weekends and holidays
Combine yoga, wild sea swimming, fitness-boosting and well-being workshops with coastal adventures full of inspirational experiences to recharge your body, mind, and spirit, on the beautiful Pembrokeshire coast of Wales.
Our fitness and adventure retreats are the perfect opportunity to improve your fitness and well-being in an inspiring wild environment. You will experience unique and exciting adventure activities and a lovely yoga class combined with a variety of fitness and mindfulness workshops, all under the expert guidance of our qualified fitness instructors and professional adventure guides.
Join us for a Women's Fitness and Adventure weekend on our May 2020 date!
You'll be well looked after by our team of friendly lodge staff and enjoy excellent hospitality at our fully catered 5-star adventure centre.
Fitness Weekend
---
Looking to come tomorrow or don't see your date listed, please call us on 01348 837709 or email info@preseliventure.co.uk
Searching Availability...
Fitness Holiday
---
Looking to come tomorrow or don't see your date listed, please call us on 01348 837709 or email info@preseliventure.co.uk
Searching Availability...
What's involved in a fitness and adventure weekend or holiday?
---
This is your chance to challenge yourself, learn new skills and get energised, inside and out. We have developed a weekend and midweek package to provide the perfect blend of fun and hard work, to improve your health, fitness and vitality without the chore of going to the gym. You'll be sharing your love of the outdoor gym with other like-minded people so don't be shy to come along by yourself as you'll be in good company.
You will take part in our exhilarating coastal adventures right here on the awesome Pembrokeshire coastline, combined with our varied workouts in the wild and yoga workshops. You will reap the rewards of improved fitness and stamina, increased strength and flexibility, improved well-being from immersion in nature and a healthy glow from breathing the fresh Atlantic air. You'll enjoy the shared experience and encouragement with the others in your group!
If you prefer the idea of a women's only weekend, come along on our May date 2020 and share your experiences with a group of like minded women, perfect!
You'll stay cosy in our comfortable 5 star graded eco lodge accommodation. All your food for the duration is provided. Meals are home cooked, healthy and delicious. Vegetarians and special diets are happily catered for.
Our programmes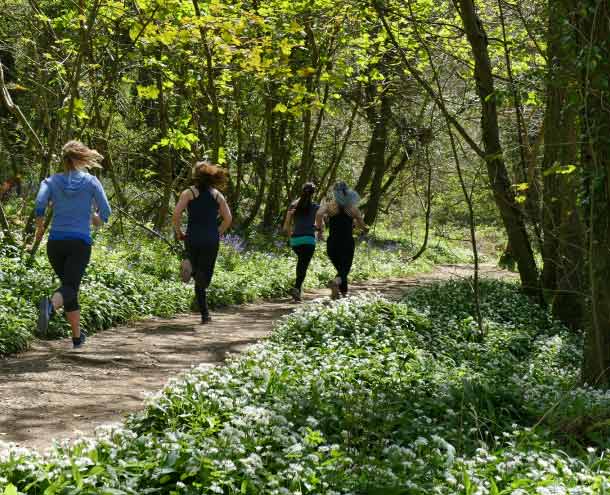 Fitness holiday
Sunday evening to Friday programme includes wild sea swimming, coasteering, sea kayaking, surfing, yoga classes, dance fitness class, trail running, circuit training, mindfulness workshop. Optional massage and spa visit can be included too!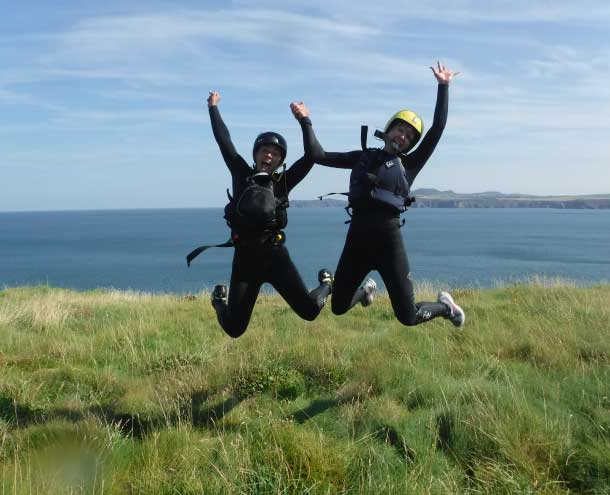 Fitness weekend
Friday evening to Sunday programme includes wild sea swimming, coasteering, surfing, yoga class, woodland trail running, coastal path power walking. Optional massage/spa on Sunday afternoon.
Choose your fitness and adventure break from our two packages:
---
Fitness and Adventure Weekend
We have designed an action packed program with plenty of variety, so we can work the whole body whilst having plenty of fun. Nothing is compulsory and you are very welcome to adapt the weekend program according to your own needs.
Friday
If you can, arrive for 6.00pm and straight out for a local run or walk to the beach – lovely! Or just join us a little later in time for a welcoming evening meal at 7.30pm.
Saturday
Boosted by a delicious smoothie drink, we start with a morning run and wild sea swim at our local beach, then back to the lodge for hearty breakfast. At 9.00am we go off for an awesome Coasteering adventure at one of our nearby fantastic wilderness locations on the coast. After a healthy lunch, it's time for a Pembrokeshire Coast Path "power walk" along the inspirational coastal trail followed by an enjoyable yoga class with a specialist teacher. You can take things at your own pace and the run or walk can be a longer or shorter distance depending on your own needs, so this is fully flexible.
Sunday
For your morning fitness boost we suggest a dance workshop or another run to the beach. After breakfast we will head off for an exhilarating Surfing adventure at one of our beautiful surfing beaches. A short stretching workshop on the beach beforehand to loosen everyone up and surfing is a fantastic and fun way to enjoy a great full body workout! Over lunch back at the eco lodge we will debrief and provide suggestions for continued fitness improvement.
After lunch we recommend a trip to our nearby Ivybridge Spa for a massage and use of spa facilities for those who want an indulgent finish to their weekend. It's best to book this beforehand so do let us know regarding the massage and spa. This cost is not included in the weekend and will be payable directly to the Spa. Massages from £30.
Weekend includes:
two nights comfy accommodation at the five Star eco lodge, home cooked food Friday evening meal to lunch on Sunday
two half day adventures plus a coastal run/power walk
one hour yoga class
wild sea swim and woodland run
all specialist equipment and qualified guides
minibus transport for all activities,
train station transfers on certain trains.
---
Midweek Fitness and Adventure Holiday - 5 day itinerary
Sunday Arrive for 5.30pm and take a woodland run or walk down to the beach, then back to the lodge for delicious evening meal at 7.30pm.
Monday After meeting your instructor over breakfast, we'll jump straight in with an exhilarating morning of coasteering. After a healthy lunch we'll head out for a trail run or power walk, finishing at the beach for a lovely wild sea swim, which will round off the first day nicely.
Tuesday In the morning enjoy a 'fitness workshop' to work on your aerobic fitness and agility, followed by an outdoor yoga workshop with a qualified practitioner. (inside venue if its raining!). After lunch at the lodge we head out for an afternoon of coastal exploration sea kayaking.
Wednesday After breakfast we will head off to another nearby beach for an awesome surfing adventure – a fun-filled full body workout! Refuel with a good hot lunch at the eco lodge and then lets get going in the afternoon with a second workout in the wild with a trail run or power walk followed by a second yoga workshop.
Thursday In the morning you'll will be off for another awesome watery workout on a coasteering adventure to experience a different location on the coast. After lunch you can totally chill on the 'Stress Buster Toolkit' workshop delivered by our local Mindfulness coach. Then you are welcome to head off and enjoy our local spa* with options for spa treatments and massage. (costs not included in overall package)
Friday On your last morning breath deep the fresh Atlantic air and head to the beach for a morning surf lesson, where you can hone your skills learnt earlier in the week, with session of stretching beforehand to loosen you up. Then back for a hot lunch at the lodge. Sad fair-wells after lunch and depart until next time!
Includes:
five nights comfy accommodation at the five star Preseli Venture eco lodge, all home cooked meals Sunday evening meal to lunch on Friday
five half day adventures of coasteering x 2, surfing x 2 and sea kayaking
coastal and woodland trail run/power walk
awesome wild sea swims at our local beach
two yoga classes, fitness focused workshops, well-being workshop with mindfulness practitioner
all specialist equipment and qualified professional guides and yoga instructor
minibus transport for all activities
train station transfers on certain trains
*An optional extra - Enjoy a wonderful treatment at our nearby Ivybridge spa just ten minutes away in our local town of Goodwick. Packages priced from £25 – £55 per person. Pre-booking advisable
Dates and Costs 2021
---
Weekend
Friday 4th June – Sunday 6th June
Friday 23rd July – Sunday 25th July
Friday 3rd September – Sunday 5th September
Cost - £295/person
Mid Week Holiday
Sunday 18th July - Friday 23rd July
Sunday 12th September - Friday 17th September
Cost - £695/person
Fun and active weekend at Preseli Venture!
Reviewed 17 May 2016 ★★★★★
Just had a fantastic weekend at Preseli Venture taking part in the Fitness weekend. On arrival the Preseli team were very welcoming and made me feel at home straight away. A fantastic trip, it was a lot of fun, enjoyable and I also feel that I have had an all over body workout too!! Thank you Preseli Venture, can't wait to come back again soon!!
Laura W United Kingdom
Frequently Asked Questions
---
How fit do I need to be to come along?
Everyone is welcome. Our fitness holiday and weekend are perfect for those looking to get in shape, improve their fitness and stamina, or just enjoy an invigorating healthy break away while experiencing exciting new challenges. It's a great opportunity to get re-inspired and perhaps re-boot a fitness routine that has become neglected over recent months and even years!
What will the food be like?
Enjoy healthy, 'real food' prepared by our lodge chef. Sample menu, Breakfast: Granola, choice of cereals, yogurt, wholemeal toast and honey, scrambled eggs, fruit salad, fruit juices. Lunch: Welsh Cawl, (chunky vegetable and lentil soup) with warm bread. Fruit bowl and fruity flapjacks. Evening meal: Moroccan chicken tagine and cous cous, followed by home-made fruit parfaits
Do I need to take part in all the activities?
We provide a program chock full of fitness, fresh air and adventure, but since all the adventures and workshops are not compulsory you can feel free to tailor the holiday according to your own wishes and stamina.
Is this for adults only?
Our fitness and adventure weekends and holidays are open to adults and young people of 16 years and over.
Do I need to be able to swim?
The activities are open to everyone. Just come equipped with a 'go for it' attitude and a sense of fun! You'll need to fit into a wetsuit and be happy to be in the water.
WIN AN ADVENTURE FOR 2!
Sign up to our newsletter for your chance to win
Any questions about your fitness and adventure break?
---
Just call us on 01348 837709 or contact us and one of our team will be happy to help. We're looking forward to hearing from you soon.