Pembrokeshire, the home of coasteering
We've been offering coasteering sessions on the North Pembrokeshire coastline for over 25 years, and we know that once you've tried coasteering with Preseli Venture you'll be hooked on this exciting adventure!
Prices start from £52 for adults, and £42 for under 16s, for a half day coasteer on one of our adventure days, or join us for a full weekend of coasteering, which also includes accommodation and meals at our 5 star eco lodge, or mix and match with lots of other exciting adventures and activities as well as a 5 night stay at our 'home from home' eco lodge on an adventure holiday.
Coasteering is a unique adventure activity just perfect for getting you out exploring the fantastic Pembrokeshire coastline, where you experience the exhilaration of sea level traversing, rock climbing, cliff jumping and swimming, and get up close to some wonderful Pembrokeshire wildlife.
The sections of the North Pembrokeshire coast that we have on our doorstep are just perfect for the coastal exploration of coasteering, with the emphasis on scrambling, cliff jumping, climbing, rock gully swimming, cave exploration, swimming into sea caves and wave riding varying depending on tide, weather, swell and location – no two coasteers are ever the same!
We welcome everyone young and old, fit and non-fit, swimmers and non-swimmers, with the minimum age of 8 years. Coasteering adventures are typically of a half-day duration and we choose the BEST location from our range of nearby inspirational venues on the National Trust Pembrokeshire coastline. That way we can be sure we take into account the variations of wind and tides and the aspirations of the group to give you the best possible coasteering experience. All specialist kit is provided including winter wetsuits, wet-suit socks and even gloves in the chillier months, so you'll be toasty warm.
Try coasteering on these events
What is coasteering?
Coasteering originated over 100 years ago in the UK when early climbing pioneers traversed rocky sea cliffs – now it's proving to be the ultimate coastal adventure.
Kitted up in a wetsuit, helmet, buoyancy jacket and a pair of trainers you get the chance to explore the Pembrokeshire Coast National Park at sea level – you'll find yourself swimming into sea caves, climbing up through natural rock arches, flinging yourself from towering vertical rock faces, and perhaps even swimming with Atlantic grey seals.
Who can do it?
If you're aged 8 or over, and you are happy to come and play in the water under the expert guidance of our professional coasteering guides, then you're ready to take the plunge!
Preseli Venture offers coasteering for families on our adventure days and family adventure holidays and family adventure weekends. If you've been bitten by the coasteering bug you might like a try a full weekend of coasteering.
We loved coasteering
Reviewed April 2015 ★ ★ ★ ★
Out of all the activities, coasteering was the activity our family chose to do twice on our stay with you. It was an amazing experience!
Louise Callaghan
Scroll to read more reviews
Brilliant. We're coming back!
Reviewed 3 September 2016 ★ ★ ★ ★
Booked a morning session coasteering and just couldn't fault it. Welcoming staff, hot drinks on arrival, all kit well looked after. We will be booking a whole week next year as we had a fantastic time!
Hannah, London, United Kingdom
Caught the coasteering bug!
Reviewed September 2016 ★ ★ ★ ★ ★
THANKS to your instructor for the excellent coasteering this morning – his experience, knowledge and laid back approach made it all the better. Thanks very much for the blast.
Paul Greenhill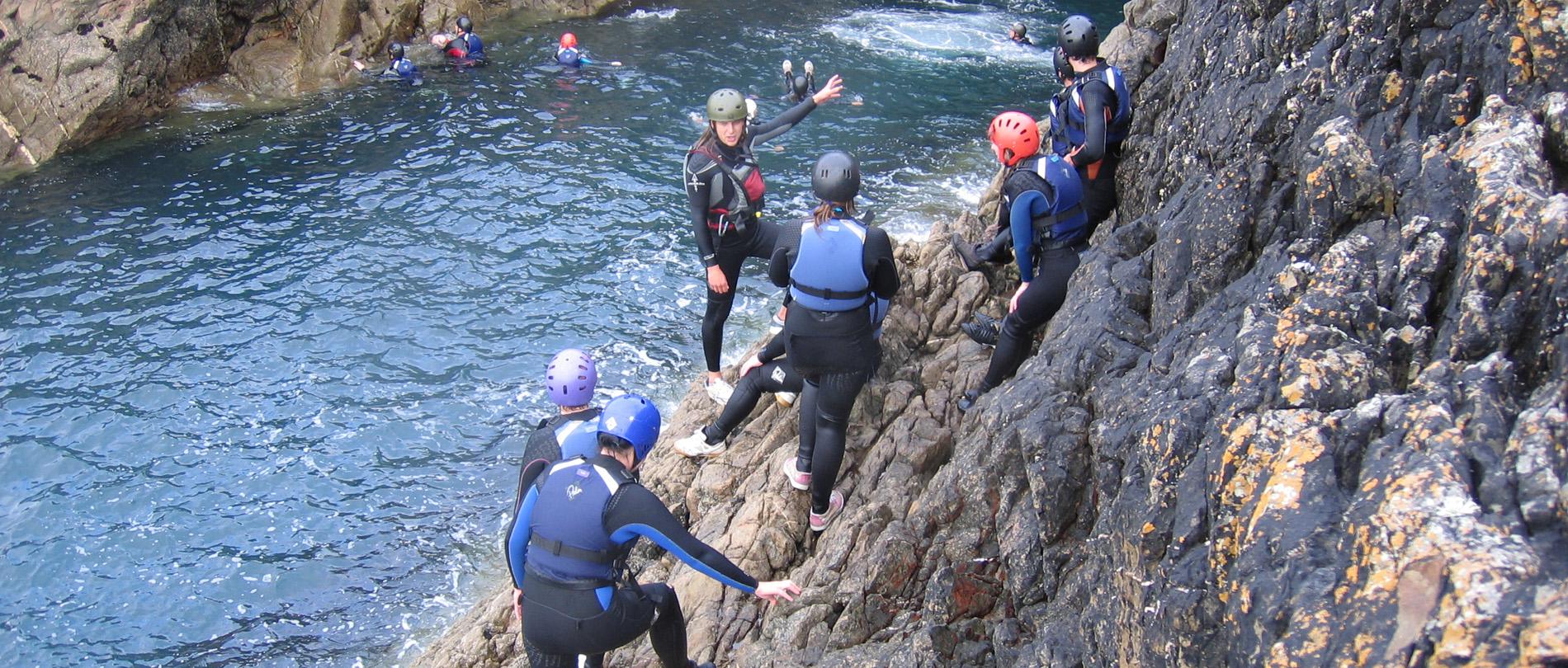 WIN COASTEERING FOR 2!
Sign up to our newsletter for your chance to win
Any questions about your coasteering adventure?
---
Just call us on 01348 837709 or contact us and one of our team will be happy to help. We're looking forward to hearing from you soon.