A sea kayaking paradise on the Pembrokeshire coast..
By combining more than 25 years experience with the beautiful Pembrokeshire coastal waters, we can offer a sea kayaking experiences for all.
Beginners and those seeking a relaxing paddle can explore picturesque quiet harbours, sheltered bays, secluded beaches and dramatic high cliffs. Improver paddlers can take longer journeys along the coast, sampling the delights of moving water and surf.
Intermediate paddlers can seek the amazing tidal rapids, creaming surf and booming swells to push the envelope. The off-shore islands beckon; Ramsey, Skomer, South Bishop are all island realms ripe for exploration.
Enjoy the peace and tranquillity of gliding through amazing rock gardens as you discover hidden gems along the coast. If there's a swell around we can play at "rock-hopping" with the waves and rocks…adrenalin for those who seek it!
Try sea kayaking in Wales on these adventure days, weekends and holidays…
Why should I choose Pembrokeshire for sea kayaking?
The Pembrokeshire coastline is world renowned as a sea kayaking paradise…clean Atlantic ocean waters meet the beauty and variety of magnificent coastal scenery.
Fascinating features hide under the high sea cliffs; including waterfalls, sea caves and natural rock arches. Bob between sea stacks, catch waves through rocky channels, surf the swell or just chill out in idyllic sheltered coves and haul up on secluded sandy beaches.
Will I see any wildlife?
Kayaks are one of the best means for observing marine wildlife.
You might find yourself kayaking amongst Atlantic grey seals that breed around the coast and off-shore islands, or porpoise and dolphins that live in the deeper waters of Cardigan Bay. The coast is awash with sea birds; kittiwakes, razorbills, choughs, shags and cormorants, also the impressive gannets who have their colony on Grassholm island.
Where do we sea kayak?
The locations we use are close-by and are wonderful wilderness areas along the unspoilt rugged north Pembrokeshire coastline.
Begin in a lovely sheltered bay or harbour and then head out to explore along the coast. As we work in partnership with the National Trust we are licensed to use their nearby idyllic harbour and stunningly beautiful bay.
What type of kayaks do we use?
Preseli Venture offers different types of kayaks for our clients to use depending on the duration and nature of the trip and your own preferences.
For full days out sea kayaking on our sea kayak holidays and courses we would typically use our specialist sea kayaks which are perfect for longer days out.
For families and half-days out exploring under the cliffs and into the sea caves we usually take out the general purpose kayaks which are perfect for poking about between the rock and playing in the swells.
We also have the option of our sit-on-top kayaks, both singles and doubles, which are perfect for families with younger children and also for nervous adults or those who prefer a more "open" style kayak experience.
Fantastic Place!
Reviewed 10 July 2016 ★★★★★
Preseli lodge and adventures are amazing! I went on the "sea kayaking with the seals weekend". The atmosphere and people are fantastic! Our guide Tommy made the trip, letting us enjoy and explore and helping us get the most out of our trip. I've already recommended this place to all my mates and am booking my next trip ASAP!!! Xxx
Pamsima, Oxford, United Kingdom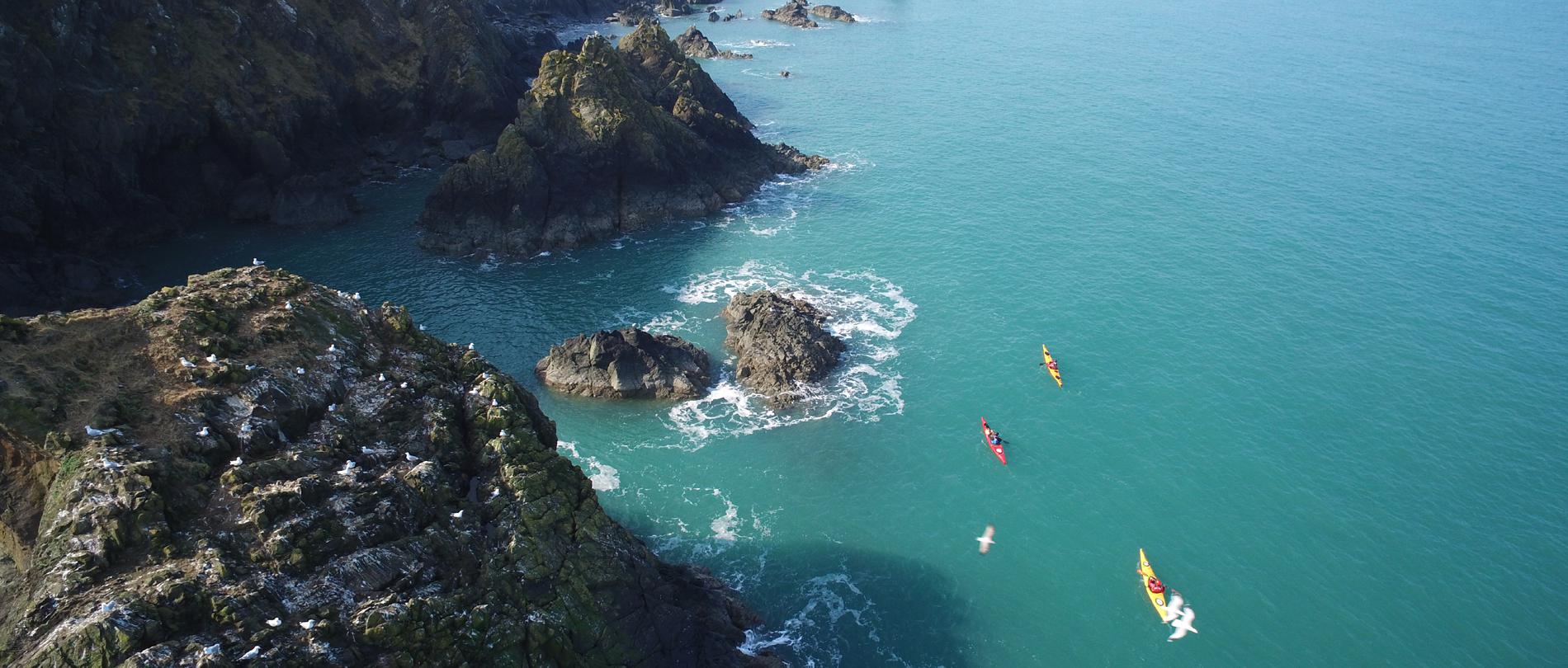 WIN SEA KAYAKING FOR 2!
Sign up to our newsletter for your chance to win
Any questions about your sea kayaking adventure?
---
Just call us on 01348 837709 or contact us and one of our team will be happy to help. We're looking forward to hearing from you soon.