Preseli Venture eco lodge
The Visit Wales graded 5-star eco lodge is a low-carbon rural retreat with sustainability at the heart of its operation, perfect for solo travellers, couples, friends, families and groups.
Perched on the hillside of a National Trust valley, swathed in ancient woodland, and only a short walk to a secluded sandy beach, the lodge offers a range of beautifully presented bedrooms, excellent facilities and breath-taking sea views.The lodge is a peaceful sanctuary from which to adventure out and explore the wild North Pembrokeshire coast.
Conveniently situated only a mile from the Pembrokeshire Coast Path National Trail and right on the Celtic cycling trail and the well-traversed Coastal Way, the eco lodge lounge is the perfect place to return and restore in front of the wood burning stove with a local brew in hand from our well-stocked bar. Whether you're enjoying a game of pool or a bonfire under the stars, you'll feel at home and well looked after by our dedicated and friendly hospitality team.
Full Welsh breakfasts, hearty hot lunches, and two course evening meals are prepared by our in house chef using delicious and wholesome ingredients, locally sourced where possible. We happily cater for all special dietary requirements.
The neighbouring camping meadow and glamping glades at Preseli Glamping offer a perfect alternative to the lodge and the chance to earth yourself, immerse yourself and reconnect with nature with excellent facilities and all the comforts of home. Pitch up on the hillside with dramatic views down to the sea or nestle yourself in an amphitheatre of birdsong down in the sheltered woodland valley.
Find out more about staying at the eco lodge and campsite
Facilities
---
FREE wireless broadband
dedicated and friendly hospitality staff
private licensed bar
drying room
pool table, table football and outside play area
sheltered bonfire site
excellent music system – use our Spotify premium account
complimentary teas, coffees and cold drinks available to help yourself to at all times
unique coastal location, with a 10 minute walk through the bluebell woods to the local unspoilt beach.
Ten bathrooms are in the eco lodge including seven modern wet rooms, which have lovely under floor heating throughout. The bathrooms are all equipped with hand towels, eco soap and shower gel.
The lounge is open 24 hours and offers a selection of teas, coffees and juices free of charge. The lounge has sofas in front of a wood burning stove, plenty of tables and chairs for socialising, playing games or using our free WiFi.
The courtyard with stunning views down the wooded National Trust valley to the sea at Abermawr. Out the back of the lodge is our patio from which you can watch the sun set over the valley.
Accommodation
There are 11 bedrooms at the lodge, so we can be very flexible with regards to rooming arrangements. The bedrooms are named after nearby off-shore islands.
Upstairs
Skomer - sleeps up to 4
Ramsey - sleeps up to 3
South Bishop - sleeps up to 9
Caldey - sleeps up to 2
Skokholm - sleeps up to 4
Ynys Bery - sleeps up to 2
Downstairs
Ynys Meicel - Family room with a double and bunk beds, sleeping up to 4.
Bitches and Whelps - double room, sleeping up to 2 in a double bed (on a mezzanine platform accessed by steps)
Hats and Barrels - double room on a mezzanine with single bed underneath, sleeping up to 3.
Grassholm - sleeps up to 6
Carreg Rhosson - sleeps up to 4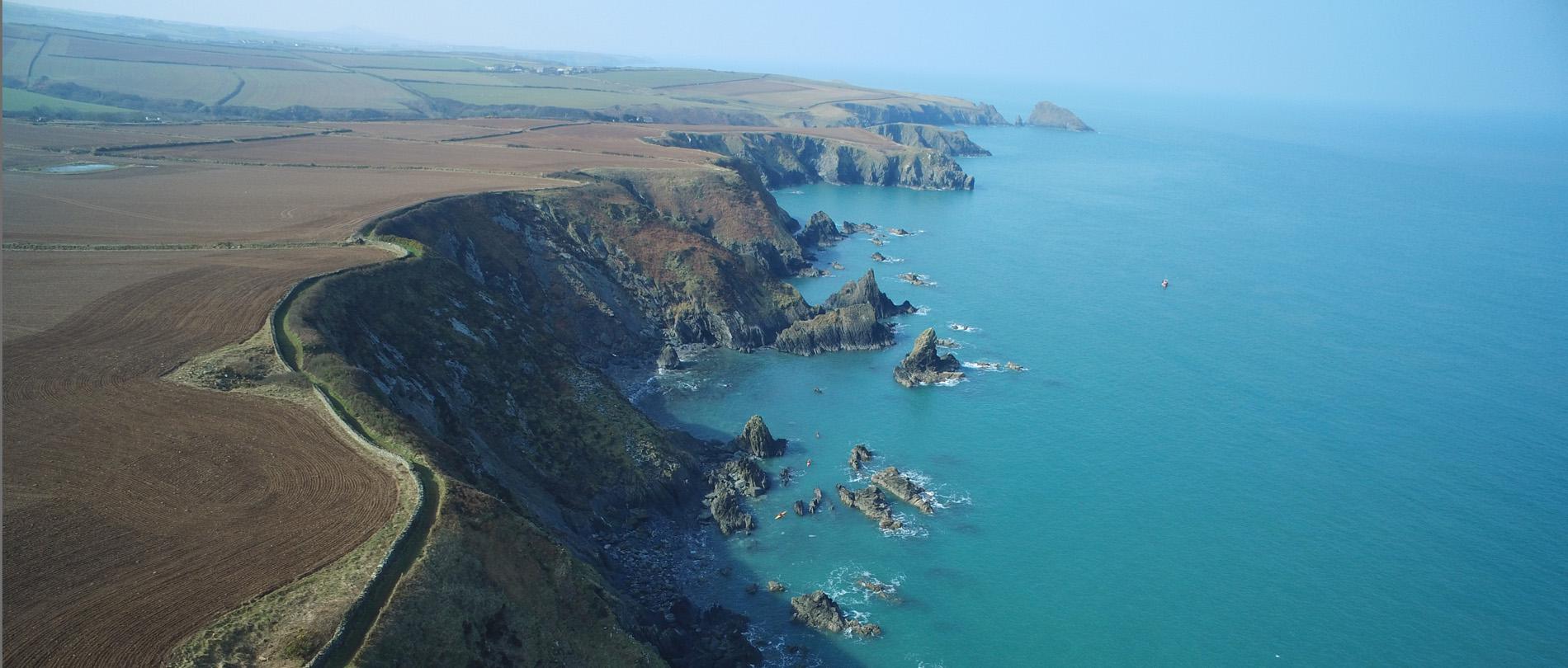 LOCATION IS EVERYTHING
Stay at the heart of the Pembrokeshire Coast National Park
Cyclists and walkers welcome!
---
Preseli Venture hold the 'Cyclists and Walkers Welcome' award from Visit Wales. This means that the lodge has facilities that will suit the needs of cyclists and walkers. It is also conveniently on the Celtic Cycle Trail, the Visit Wales Coastal Way and only a 10 minute walk from the Pembrokeshire Coast Path National Trail. At the lodge, walkers and cyclists will benefit from:
A space available for drying outdoor clothing and footwear.
Lockable undercover area for safe overnight storage of bicycles and panniers, with an unobstructed entrance.
Access to water point for washing bicycles and outdoor clothing.
Boot scrapers at main doors to facilities with water supply for cleaning boots and outdoor clothing.
A drying room for wet clothes.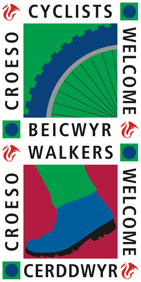 Eco lodge prices
---
Overnight stay with all 3 delicious home-cooked meals
£82 per adult and £68 per child
Overnight stay with evening meal and breakfast
£72 per adult and £58 per child
Overnight stay with full cooked breakfast
£56 per adult and £46 per child
Selection of teas, coffee and cold drinks are all available to help yourself (24 hours) in the lodge social area. Snacks and drinks (range of hot and cold, alcoholic and non-alcoholic beverages) available behind the bar at breakfast time, lunch time and from 5pm in the evening.
We loved the atmosphere in the lodge
Reviewed September 2021 ★ ★ ★ ★ ★
My group and I had a fantastic stay - the food was absolutely fantastic and the staff were very helpful and friendly. Comfortable beds and clean bathrooms. Looking forward to returning again soon.
Nia Knott
Scroll to read more reviews
End-to-end a fantastic experience
Reviewed August 2021 ★ ★ ★ ★ ★
It was a delight from eating the sumptuous food through the woodpeckers feeding at the window to the more expected enjoyment of coasteering and kayaking. We will be returning
Alan Moore
All our needs were happily catered for
Reviewed August 2021 ★ ★ ★ ★ ★
My family and I had a lovely weekend and enjoyed the activities on offer. The staff were friendly and catered to all our need during our stay.
Nitash Odedra
Excellent, spotlessly clean facilities
Reviewed July 2021 ★ ★ ★ ★
We loved it! We were only booked for accommodation, but wish we had booked activities too once we were there! Excellent facilities, spotlessly clean, and staff were very helpful.
Leanne Boardman
Great staff
Reviewed July 2021 ★ ★ ★ ★ ★
Fantastic and the staff were great!! Thank you!
Catrin Elis
Beautiful wild area
Reviewed July 2021 ★ ★ ★ ★ ★
The area the lodge is in is beautiful, the valley we walked in and the local beach were virtually empty and full of wild flowers and lovely woodland. Thank you for making our stay so special
Ann Whittaker
Outstanding food
Reviewed September 2021 ★ ★ ★ ★ ★
Awesome, what a great team and the trips out was brilliant The accommodation was very comfortable, the food was outstanding. The whole experience was fantastic, definitely going back
Paul Nicholls
Great value accommodation
Reviewed October 2021 ★ ★ ★ ★ ★
The lodge was warm and dry with plenty of hot water for showers. Loads of food and a decent bar, well priced too.
Amanda Webster
Book your stay at Preseli Venture's eco lodge
---
Eco Lodge
Looking to come tomorrow or don't see your date listed, please call us on 01348 837709 or email info@preseliventure.co.uk
Searching Availability...

WIN A LODGE STAY FOR 2!
Sign up to our newsletter for your chance to win