Surfing lessons in Pembrokeshire
The wild and beautiful beaches of the Pembrokeshire coast are the ideal location for learning to surf in Wales.
With more 'Blue Flag' beaches than anywhere else in the UK, Pembrokeshire is an awesome spot to begin or develop your surfing career. Our coastline incorporates surf beaches which face North, South and West, which means that if there's a wave we'll get it.
So, what's stopping you coming to learn to surf with us on some of the best beach breaks in the west?
Learn to surf on these events…
Why choose Preseli Venture for surfing?
We have some of the most beautiful and idyllic beaches in Britain, all within a short drive of the Preseli Venture eco lodge. All of our staff surf in their own time and are passionate about surfing. Consequently you will be assured of a safe, sensible and integrated approach to teaching you the ancient art of surfing.What will I learn?We'll teach you everything, from how to read the synoptic chart to deciding where and when to surf to how to deal with dumps and rips as well as all important surf etiquette. Rest assured of a good, healthy and exhilarating stay, and your surfing will improve too!
Do you provide the equipment?
We provide you with toasty warm steamer wetsuits, wetsuit gloves, booties and hoods to make sure your hands, toes and heads are warm whatever the time of year. Our new Swell surfboards are ideal for learners and improvers alike.
Another amazing adventure with the lovely people of Preseli Venture
Reviewed 7 August 2016 ★★★★★
The absolute highlight for both me and my son was the surfing. Rob and George were amazing at encouraging us, and I even stood by myself on a surf board, which I NEVER thought would happen. It was amazing. Thank you so much! And yes, we will be back next year.
Fiona R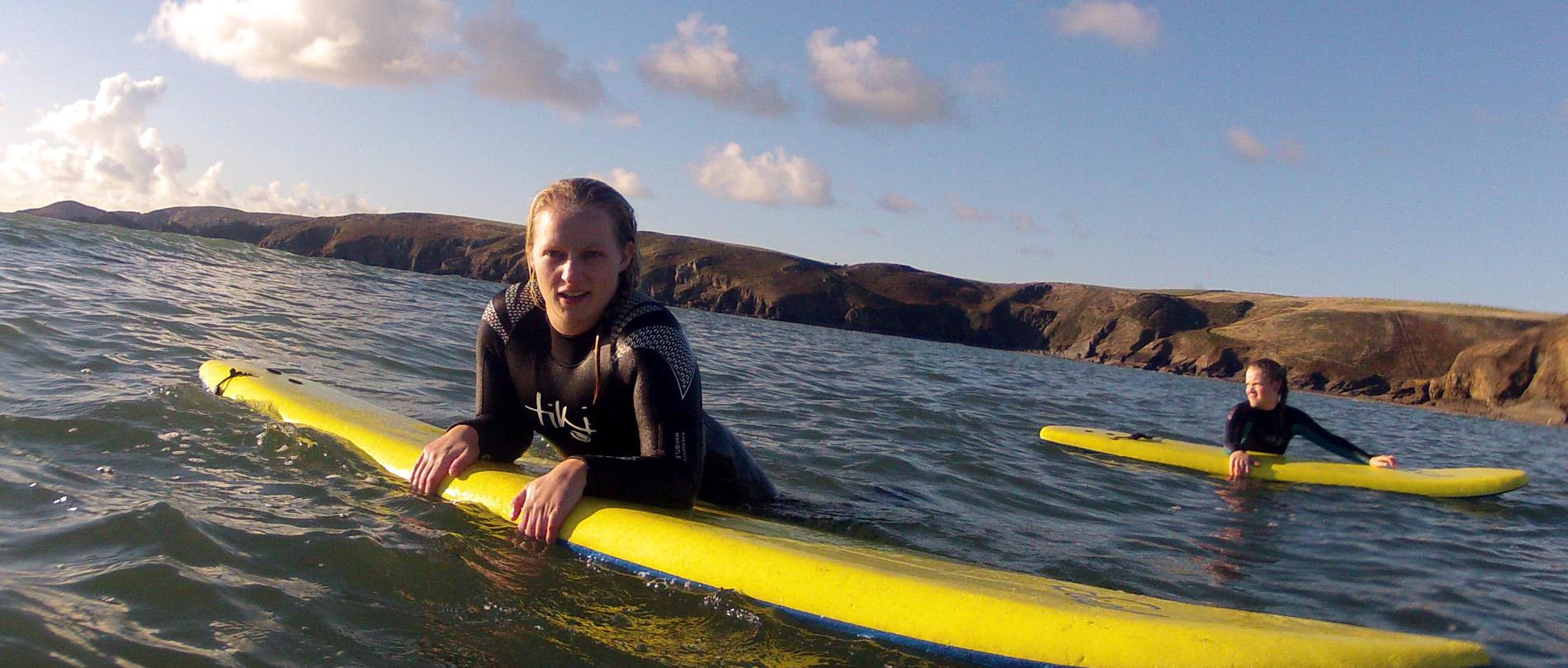 WIN SURFING FOR 2!
Sign up to our newsletter for your chance to win
Any questions about your surfing adventure?
---
Just call us on 01348 837709 or contact us and one of our team will be happy to help. We're looking forward to hearing from you soon.