Adventure activities
Explore your wild side amidst some of the most breathtaking scenery on earth.
A spirited sanctuary, Preseli Venture is a sustainable outdoor activity centre with 5-star eco lodge accommodation geared towards providing unique, immersive and memorable experiences in nature's spectacular playground, the wilderness of the North Pembrokeshire coast.
We have been guiding adventures in the Pembrokeshire Coast National Park for over 30 years and have a working partnership with the National Trust to use their nearby pristine locations for outdoor activities: coasteering, surfing and sea kayaking. Our intrepid adventurers find themselves coasteering with inquisitive Atlantic grey seals, sea kayaking with pods of porpoises and watching a huge variety of sea birds from diving gannets to nesting razorbills- the abundance of wildlife is astounding!
Our expert team comprises of Pembrokeshire's most enthusiastic and knowledgeable adventure aficionados who endeavour to bring exhilarating and awe-inspiring experiences to everybody, young or old, first timers or seasoned adventurers.
Whether you're bracing the Atlantic air upon beautiful craggy clifftops, taking an invigorating plunge into crystal clear waters, surfing clean, green, peeling waves on sandy 'Blue Flag' beaches or kayaking between natural archways and rock gardens under incredible sea cliffs… Preseli Venture is the place to meet your adventurous edge.
To find out more and book your coasteering, surfing and sea kayaking experiences for families and adults, take a look at our Adventure Days.
Read more about Preseli Venture activities…
From a half day to a full week of adventure…you choose
Discover an epic cocktail of activities on our all-inclusive Adrenaline Cocktail Adventure Weekends
Throw yourself into an immersive, awe-inspiring, all-inclusive 5-day activity holiday on our Adult Adventure Staycation
Brilliant. We're coming back!
Reviewed 16 September 2016 ★★★★★
Booked coasteering and just couldn't fault it. Welcoming staff, hot drinks on arrival, all kit well looked after. We will be booking a whole week next year!
Hannah, London, United Kingdom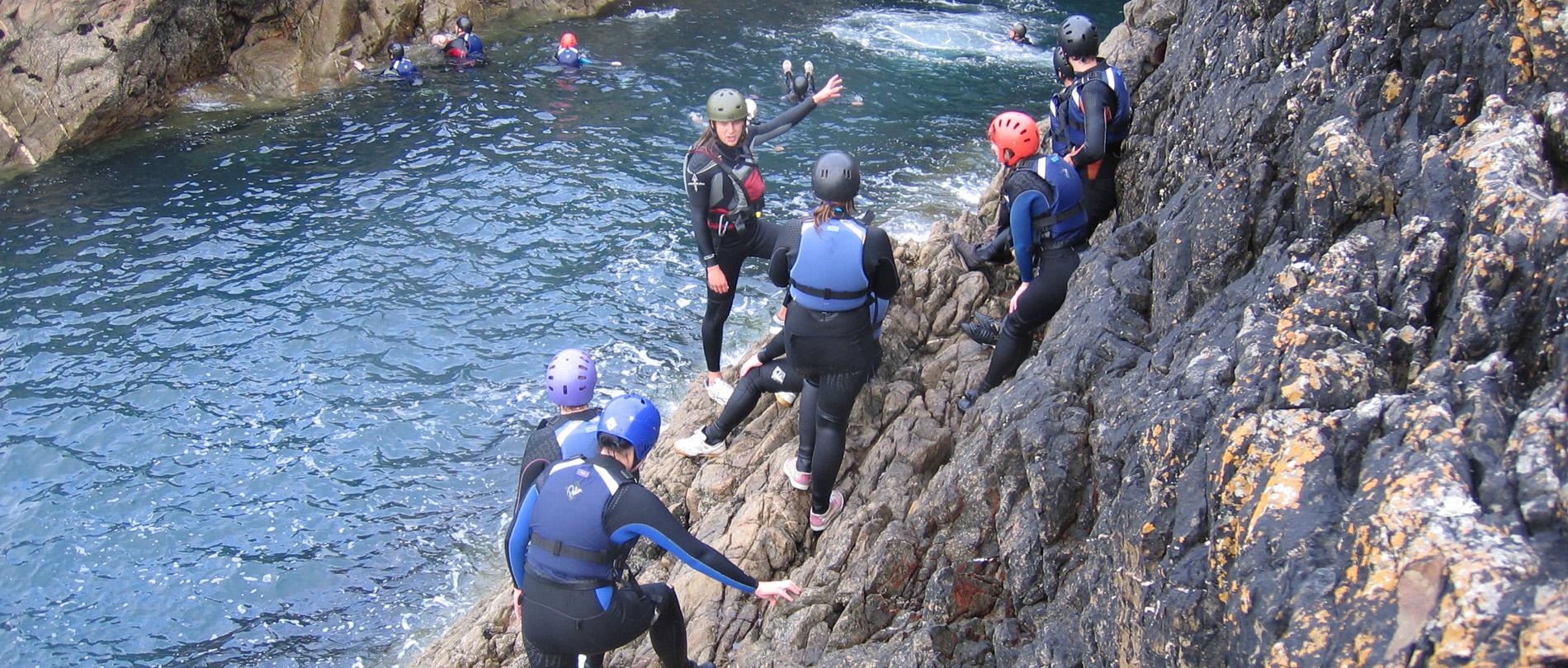 WIN COASTEERING FOR 2!
Sign up to our newsletter for your chance to win
Ready to book your adventure?
---
Simply visit our Adventure Days page, choose from coasteering, sea kayaking and surfing, then select your dates on the activities calendar.
If you've got any questions about our activities, we're happy to help -just call us on 01348 837709