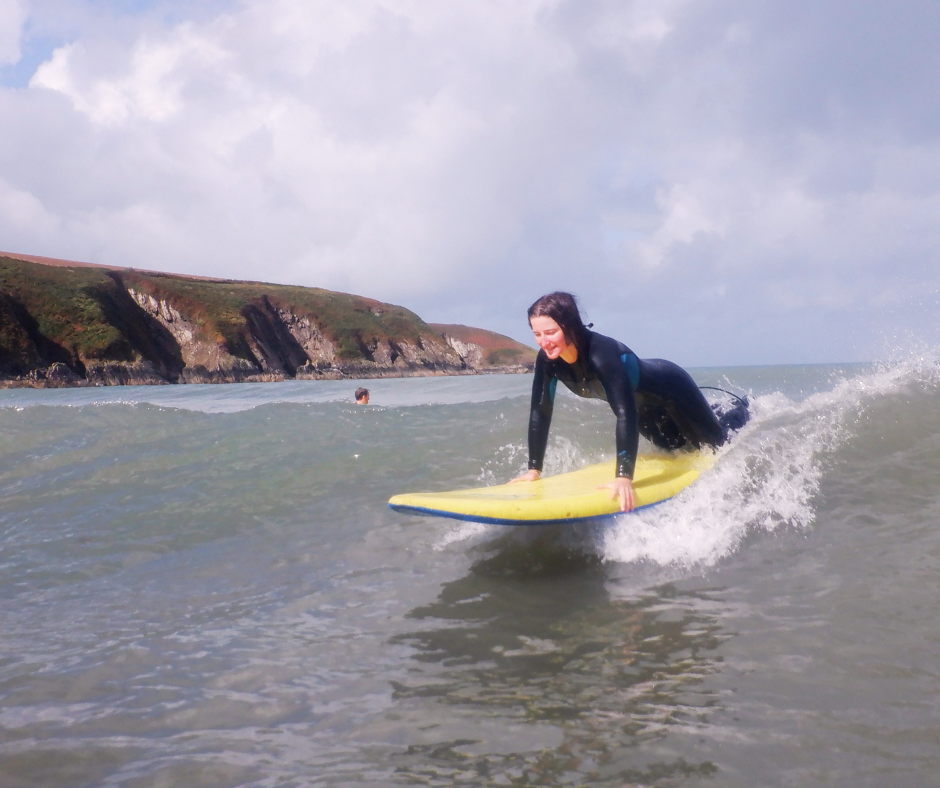 10 Reasons to Visit the Pembrokeshire Coast in Autumn
Autumn invites an exquisite sense of peace and has a special way of showcasing the breathtakingly wild and remote beauty of the Pembrokeshire Coast. On autumnal evenings, we love leaf-scuffing walks through the russet-gold ancient woodland which winds through the valley from eco lodge down to Abermawr, our deserted local beach. It's the perfect time to connect with friends and family around a blazing bonfire with a local brew in hand whilst watching the sunset over the ocean.
We've put together 10 reasons why Autumn is the best time to escape the ordinary and uncover adventure here in the wilderness of the Welsh coast.
---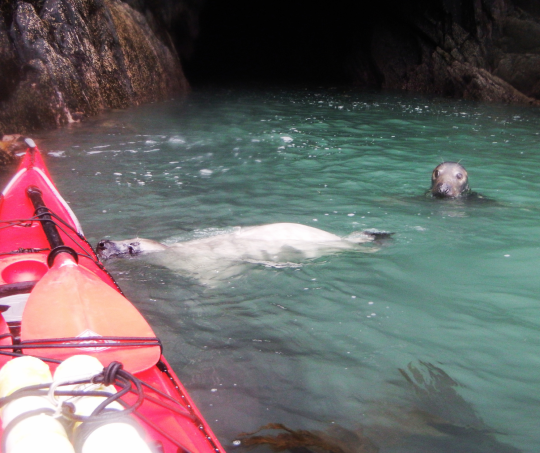 August to November is Seal-pupping season.
Although we never approach these playful and curious creatures, they're of such an inquisitive nature that they always end up paying us a visit when we're bobbing about on our surfboards in the line-up or kayaking around the coastline. From atop craggy clifftops, walking the Pembrokeshire Coast Path, we're able to watch a huge number of seals lazing in undisturbed rocky coves, mothers feeding their fluffy white pups and speckled juveniles learning to fish and playing in the shallows. Pembrokeshire's offshore islands of Skomer and Ramsey house particularly buoyant seal colonies – Ramsey has between 500 and 700 pups born each year, making it the largest grey seal pupping site in southern Britain. On our Family Adventure Holidays and Adult Adventure Holidays in October half-term, you'll have the opportunity to take an unforgettable voyage around Ramsey Island to see the Atlantic grey seals in their natural habitat.
---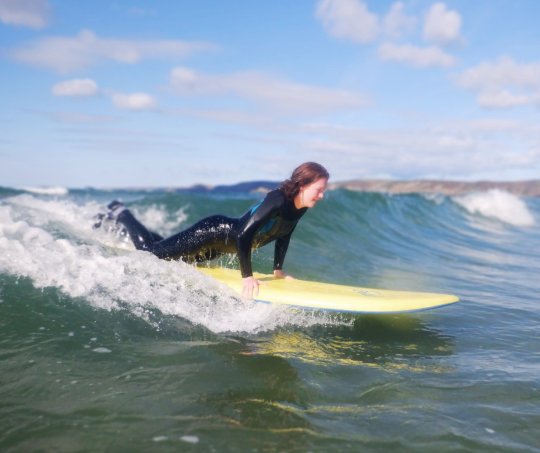 2. Autumn serves up the best quality swell for surfing.
Surfers rejoice as clean, long-distance swell lines roll in from far across the Atlantic, forming waves of incredible quality that fire up Pembrokeshire's world-class surfing beaches. With uncrowded breaks to suit longboarders and shortboarders, waves for all abilities from beginners to pros, and beaches facing every angle to make the best of the wind and swell direction, Pembrokeshire is a surfer's paradise. With expert tuition from our experienced guides, you'll be on your feet in no time at all. Our Autumn Adventure Weekends are the perfect time to practice your paddle and pop!
---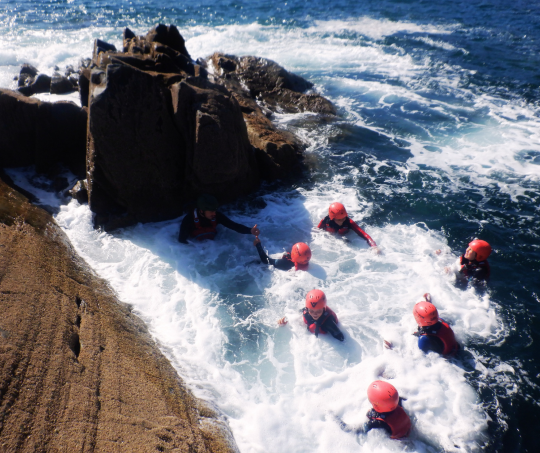 3. The ocean conjures up wild conditions for coasteering.
Pembrokeshire's rich and diverse geological landscape offers a wealth of fun features for coasteering which really come to life in the autumn swells! Navigating an abundance of craggy ledges and diving into plunge pools which bubble and swirl like cauldrons, coasteerers find the ultimate adventure where the land meets the sea. Sea caves are echoing and booming with the waves, gullies are rushing and surging with swell and frothy whitewater dances in the crisp autumn light. Dust off the cobwebs and join us for a half-day coasteering adventure, or take the leap on our "Wicked Liquid" Coasteering Weekend.
---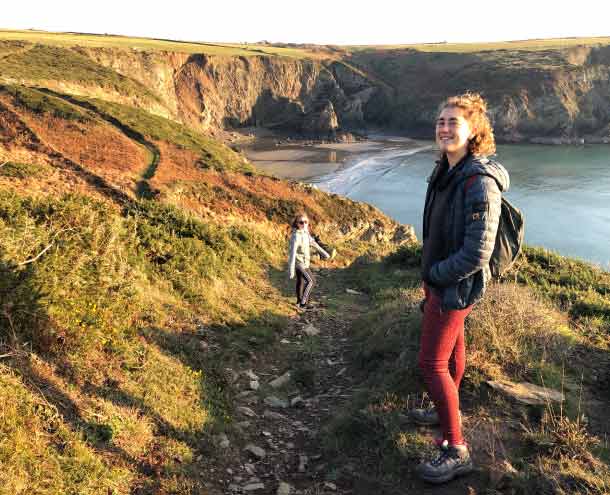 4. Take in Pembrokeshire's natural beauty on deserted beaches.
Autumn is a time for wrapping up and venturing out on rocky rambles and blustery beach strolls. It's a time when you can really appreciate the sheer expanse of empty sandy beaches. The summer buzz dies down and the crowds thin out quickly in September, leaving the beaches sometimes completely deserted, save for the odd flock of oystercatchers, a few local dog-walkers enjoying the peace, and of course surfers gladly soaking up the swell at their local breaks after the summer lull. It's quite common to walk for miles along the Pembrokeshire Coast Path without seeing another soul; a truly meditative immersion in nature. Our self-guided Walking Holidays in autumn are perfect for anyone looking for some stress-free time to reflect and relax in nature.
---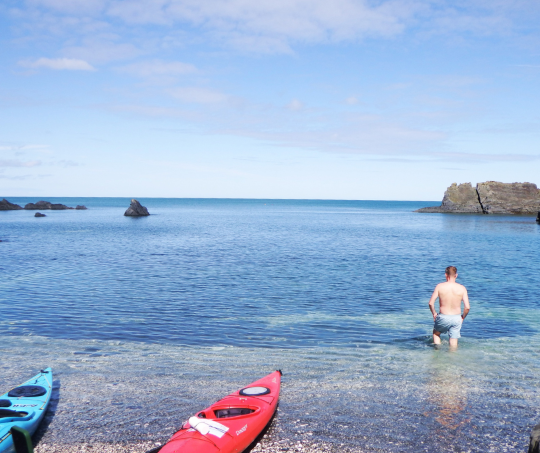 5. The water reaches its warmest temperature all year.
Yep- you heard correctly! September is usually when the sea temperature peaks here in Pembrokeshire, as it takes the whole summer to warm up, but October can still be lovely and warm with temperatures up to 16 degrees – often warmer than the air. There are some amazingly sheltered bays along our coastline which are perfect for sea swimming even when there's wind and swell about elsewhere. One of those is our local beach, Abermawr, which offers enticing crystal-blue waters and calm conditions. Wild swimming in the autumn is a fantastic way to prepare the immune system for the chillier months to come as it turns on your inner heat system by giving you a short exposure to the cold, a process called thermogenesis. It's an amazing boost for mental health, and there's no better feeling than pulling on your woolly hat after a refreshing dip and warming up with a hot flask of tea.
---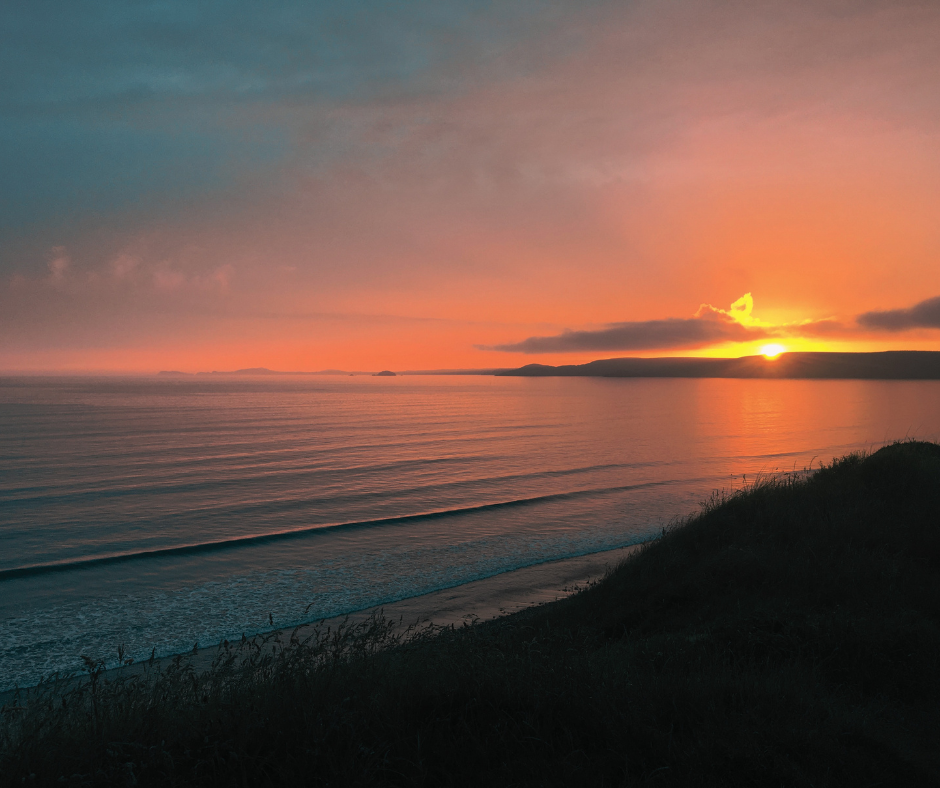 6. Dramatic sunsets on west-facing beaches.
Autumn skies are nothing if not theatrical, and the bold, expressive brushstrokes which paint the skies at sunset on Pembrokeshire's west-facing beaches are unrivaled. Though we can't help but miss the long summer evenings, a sunset surf at a sociable hour is a particularly special treat! Not to mention, the warmth of a beach bonfire which brings everyone together on an autumn evening, the perfect conclusion to a day of adventure. When you arrive on an autumnal Friday evening for an Adult Adventure Weekend, the first thing we recommend is stretching your legs with a stroll down to Abermawr to watch the sunset before the welcome feast. What a way to fully arrive in your surroundings and immediately immerse yourself in the magnificently rugged coastal landscape of North Pembrokeshire.
---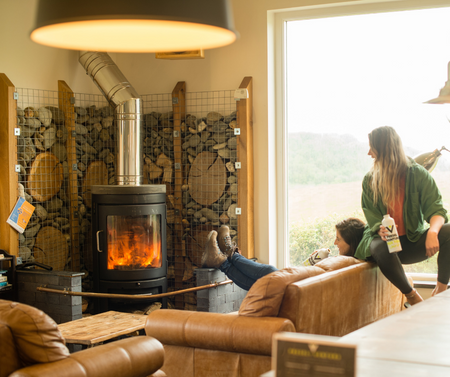 7. Cosy evenings curled up by the log burner.
Here at the eco lodge, the log burner is at the heart of autumn evenings, where stories are told of the day's adventure and lifelong friendships are forged by the fire. Perhaps you'll curl up with a Merlyn's Magic creamy liqueur hot-chocolate and a good book or maybe play a game of cards with a local Pembrokeshire cyder. From the cosy sanctuary of the eco lodge lounge, you can look out on the changing colours of the wooded valley and watch the flambouyantly-feathered goldfinches feeding on hedgerow berries.
---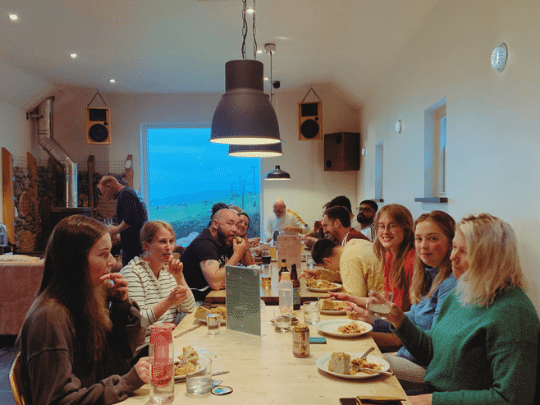 8. Nourishing seasonal feasts after the harvest.
At the eco lodge kitchen, we're passionate about supporting local producers by buying fresh seasonal produce directly from the grower. This means you'll enjoy hearty food for the soul such as spicy pumpkin soup, roasted root vegetables, warming curries and apple crumbles. Luckily for us, autumn is also the season when Rob the chef makes his traditional Slovakian Goulash, which is of legendary status! In Slovakia, the preparation of this dish encapsulates the meaning of community and is a celebration of bountiful hunts and harvests. Check out Rob's warming autumnal recipe for Goulash here.
---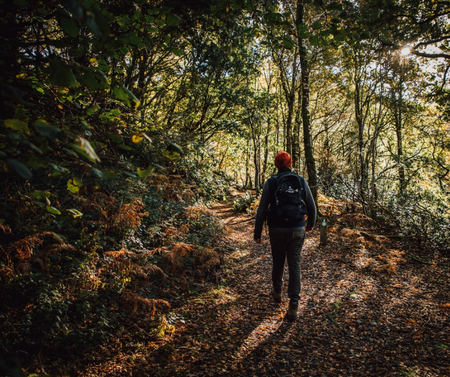 9. Leaf-crunching woodland walks in swathes of russet, red and gold.
The autumnal canopy of deep fiery reds, golden ochres and sunset coppers is alive with activity as insects harvest nectar from ivy flowers, squirrels hoard acorns and hazelnuts, and birds hurriedly build their fat reserves for the winter. The inner child in all of us is awakened by kicking through great drifts of fallen leaves, hunting shiny conkers and spotting fantastic fungi amidst tree roots and the carpet of leaf litter! If you're with us for the Family Adventure Holiday in October half-term, you'll take part in the "Abermawr Challenge", an orienteering quest solving clues and completing tasks through the autumn woodland and down to beach.
---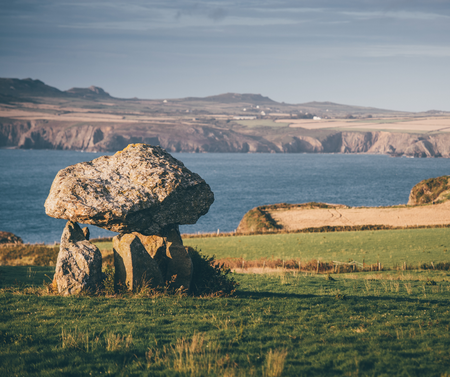 10. Autumn is the perfect time to delve into Pembrokeshire's rich heritage.
Pembrokeshire has a prolific cultural history with an array of ancient archaeological sites and standing stones, a wealth of historic cathedrals, churches and chapels, a plethora of castles and strongholds fortifying the coastline and Lansker line, as well as an abundance of industrial sites through the ages, from slate to wool. Pembrokeshire is a landscape of myth, magic and legend; it is a landscape eulogised and exalted in painting, poetry and song; a well-trodden trail for pilgrims and merchants, smugglers and pirates, and not forgetting wizards and knights! Autumn is a truly magical time to explore these bountiful relics of the past. From the eco lodge, you can walk to a Neolithic burial chamber, Carreg Sampson, at Abercastle, the iron-age hillfort of Garn Fawr, and the last working Woollen Mill in Wales, Melin Tregwynt, where you can marvel at the looms, stop for afternoon tea and even buy some woolly warmers!
---