Self guided walking holiday
The Pembrokeshire coast path is one of the world's most well known long distance walking routes, and one of Britain's National Trails.
The path in its entirety follows 186 miles of wild and rugged coastline along the westernmost peninsula of Wales. Our self guided eco walking holiday include what is thought of as the most spectacular section of the path from St Dogmael's in the north down to the tiny cathedral city of St David's in the far west. You'll explore a variety of inspirational landscapes from steep coastal cliffs, undulating rocky coves and sandy bays, to volcanic headlands and flooded glacial valleys. You'll see some of Wales' rich historical heritage such as ancient drowned forests, neolithic burial chambers, tradiitional working harbours, the oldest working woolen mill in Wales and the jewel in the crown of the magnificent 12th centruy St David's cathedral. Pembrokeshire is famous for its rich wildlife and you'll see seals, sea birds and beautiful wild flowers as you journey each day.
On our walking holiday you stay at our 5 star eco lodge and enjoy hospitality provided by our welcoming local lodge team, and access your walking route each day using the local buses or walk straight out of the lodge door and down to the coastal trail. We have designed both longer and shorter days out walking so you have full flexibility for your choice of how far you walk each day.
For walking groups we can provde daily minibus shuttles to the start and finish of your walking route.
Book your walking holiday at Preseli Venture
---
Date of Adventure
Special Instructions
Adult/Child
Shorter stays
Join us on one of the following dates for a shorter stay walking the coast path- just book accommodation where available at the eco lodge and add a self-guided walking pack to your basket – you can just do part of the itinerary!
Or if you have any other requests for dates, please let us know and we'll see what we can offer.
Guided Walking
We also offer 5-day guided walking holidays on many more dates throughout the year. These are bookable through an agency but delivered entirely by our in-house team at Preseli Venture. If you're interested in joining one of these instead, please contact us directly for more details on how to book.
What happens on the self guided walking holiday?
---
You'll be based at our lovely Visit Wales graded five star eco lodge which is just a 15 minute walk from the coast path. Settle into the lodge for your holiday, leave your bags behind and set off with a freshly prepared picnic lunch each day and take a local coastal bus to your starting point.
Our walking holidays take advantage of our local coastal bus services which allow you to start and finish at a different part of the coast each day. Our hospitality team will go through every little detail so that you are all set to enjoy the very best walk along the coastal path. You'll be provided with a useful self guided walking pack which will include bus times, route details for both long and short days and a weather-proof OS map.
The Preseli Venture self guided walking holiday is a truly unique low carbon holiday to enjoy the very best of the inspirational north Pembrokeshire coastline with the least environmental impact possible.
Travel to Pembrokeshire by train to our local station of Fishguard and Goodwick
Stay in our low carbon 5 star eco lodge right on the coast in the heart of the National Park
Take a walking holiday with a flexible approach, 5 days walking with long and short mileage days.
Use the local buses to access the start of the walking routes, and return to the eco lodge accommodation each day.
Walking Groups
---
The eco lodge is the perfect venue for your walking group to enjoy the best of Pembrokeshire coastal walking. Based right in the heart of the National Park, close to wild Strumble head peninsular but also just a few miles from St David's, the best most spectacular walking areas are right on our doorstep.
Relax in the knowledge that you are in safe hands, with advice on route planning and minibus drop off and pick up service available too. If you prefer exclusive use of the eco lodge for your group, please get in touch, as we are happy to book the whole lodge out. If you would like a guide to take you out to explore the coastal path, and also inland in the unique Gwaun Valley or Preseli hills, then we have lots of local knowledge to share with you, and qualified, experienced walking guides.
The eco lodge is homely and provides delicious hearty and healthy meals just what you need after a wonderful day out exploring. Your group can treat themselves to a local ale or Welsh tipple from our well-stocked lodge bar and look forward to the next day whilst enjoying the warmth of our wood burning stove in our cosy lounge, or outside in our sheltered garden under the starry Welsh sky around a blazing bonfire.
What does this holiday include?
---
We are able to run this holiday on any dates. Your itinerary will differ slightly according to the seasonal bus timetables.
We feel 5 days is an ideal amount of time to carry out our suggested walking itinerary however, please feel free to come for a shorter or longer stay! You can tailor make your own week and you might like to add some guided coastal adventures.
For walking groups, we are happy to arrange minibus pick-ups and drop-offs. Please email info@preseliventure.co.uk for prices and more information about this service.
Off the shelf package
£410 per person plus £15 for a walking pack*
*If you're coming as a couple, or small group of friends booking all together, you will be charged £15 between you, and have 1 walking pack to share.
Includes:
5 nights Sunday – Friday at the 5 Star Preseli Venture eco lodge with hearty cooked breakfasts, packed lunches for full days out and two-course evening meals.
A useful self guided walking pack including bus times, route suggestions for long and short days, a weather proof OS map.
Emergency support from our staff in the event of any problem.
Unsurpassable!
Reviewed September 2022 ★ ★ ★ ★ ★
All your team, along with your other guests, made me feel extremely welcome. Accommodation was spotless, food delicious and surroundings unsurpassable!
Leonie Anderson
Scroll to read more reviews
Preseli Venture is a great base for walking
Reviewed October 2021 ★ ★ ★ ★ ★
Our walking group had a wonderful experience at Preseli Venture. All our members felt it was a great base for a walking weekend on the Pembrokeshire Coast. The accommodation was clean and comfortable with excellent washing and shower facilities and the food was tasty and plentiful.
Jim Cowie
Perfect location and lovely place to relax
Reviewed August 2015 ★ ★ ★ ★ ★
Kind staff, helpful chefs (they prepared me delicious gluten free meals)and great location !! It's a perfect place to start discovering Pembrokeshire Coast Path.
Felletz
Frequently Asked Questions
---
Can I do this holiday as a solo traveller?
Yes. This is a great holiday for solo travellers and you will have the freedom to set your own itinerary for the week. The lodge has a lovely welcoming and friendly atmosphere so you will feel at home and meet other adventurers in no time.
I am not an experienced hiker, will this holiday be suitable for me?
The Pembrokeshire coast path is easy to navigate and covers some incredible landscapes making it a great place to explore whether you are a seasoned hiker or not. We will provide you with route details so that you can tailor each day to your own fitness level and interests. Our events manager will be available to answer any questions during your stay.
Can I bring my dog?
We love dogs at Preseli Venture and the Pembrokeshire coast path is a great place to walk with your furry friend, however we are not able to have dogs staying in the accommodation due to allergies and other guests staying. We do have a beautiful camping and glamping site next door at Preseli Glamping where dogs are welcome so please do book a pitch or our Geodesic dome if you'd like to bring your dog and you can still purchase our walking pack from the lodge and carry out the itinerary throughout your stay.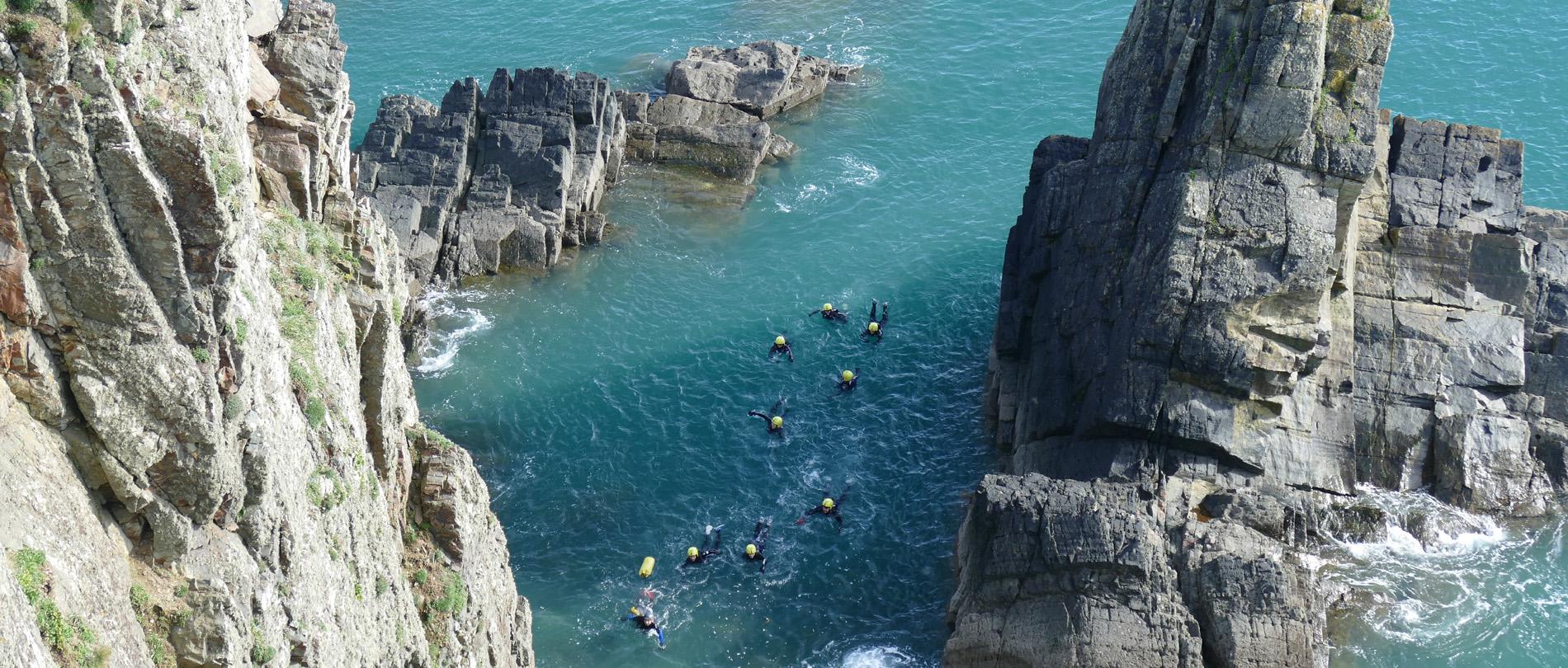 WIN AN ADVENTURE FOR 2!
Sign up to our newsletter for your chance to win
Any questions about your walking holiday?
---
Just call us on 01348 837709 or contact us and one of our team will be happy to help. We're looking forward to hearing from you soon.