Study Abroad Student Weekend Adventures & Accommodation
Join us for a weekend in Wales, and immerse yourself in one of the top two coastal destinations in the world. Enjoy the perfect Wales student weekend away exploring an unspoilt, breathtaking landscape, amazing wildlife, Welsh castles and cathedral, awesome Atlantic ocean adventures and tasty food and drinks.
Pembrokeshire National Park in Wales, recently rated one of the top two coastal destinations in the world by National Geographic Traveller magazine, offers the perfect wild Wales student weekends and longer trip away where you can walk along the stunning coastal path on the western edge of Europe, kayak into echoing sea caves, explore St David's the smallest city in Britain and its twelfth century cathedral, visit Pembroke castle birthplace of Henry VII, surf on wild beautiful beaches, jump off cliffs into deep green pools, and sample local Welsh ales direct from the brewery.
In the evenings relax at our 5 star eco lodge watching the west Wales sunsets and sample some Welsh beers and drinks at the lodge bar, explore through tranquil woodland to the unspoilt beach, and warm yourself around a blazing campfire under the starry night sky in our sheltered garden.
Discover a wealth of guided adventures and excursions just outside your door, with our 5 star eco lodge accommodation and heart-warming Welsh home cooking just waiting for you after a day of unbridled fresh air freedom.
This weekend has set my soul at ease. The land is gorgeous, the activities were thrilling and the meals were absolutely delicious. Thanks a thousand times over!"

The views, the castles, the Welsh beers, the excursions and the people are amazing, the most incredible trip I've taken on my study abroad experience. I loved it and will highly recommend it to others. A fantastic way to experience Wales.

Michael French, Syracuse University study abroad student
Book your student weekend at Preseli Venture
---
Student Weekend
Looking to come tomorrow or don't see your date listed, please call us on 01348 837709 or email info@preseliventure.co.uk
Searching Availability...
What's included in the Wales experience weekend?
---
Swim with Atlantic grey seals, visit St David's the best loved cathedral in Wales and the UK's smallest city, hike the famous coastal trail, throw yourself off sea cliffs and enjoy delicious Welsh cakes and traditional 'cawl a caws'.
The weekend programme
This programme starts on Friday evening, finishing after lunch on Sunday, with 2 nights accommodation including all meals, and your choice of three half days from awesome adventures, coastal hiking, and cultural visits.
Costs for the weekend
The Wales adventure weekend costs £225 per person
Good to know
If you would like to arrive Thursday evening the extra cost at the eco lodge is £49 including Thursday evening meal and Friday breakfast. Spend Friday doing your own exploring, (for no extra charge), along the coastal trail to the 17th century Tregwynt woollen mill, and discover beautiful wild beaches, or take a bus to visit St David's. Add an extra half-day guided adventure for £49.
What is Coasteering?
---
It's the most amazing coastal exploration adventure involving scrambling, swimming, climbing and jumping your way along the rocky Welsh coastline. No experience is required, everyone can do it, and as you'll be wearing a flotation jacket, you don't even need to be able to swim. You'll be amazed at what you can do, and its so much fun!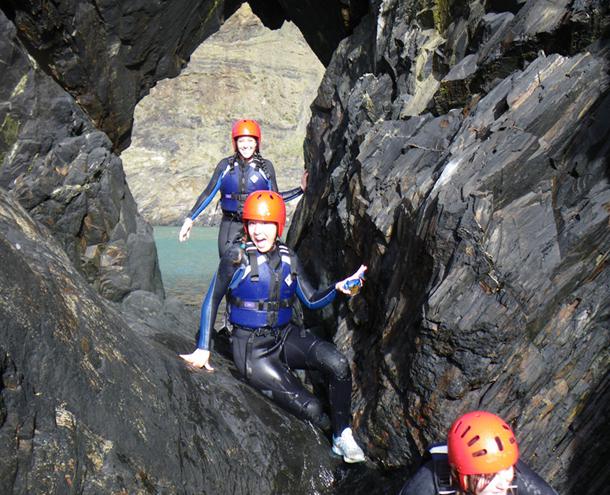 Coasteering fun
Our guides take you out for a unique exploration along this beautiful coastline. Everyone can do it so jump on in and surprise yourself!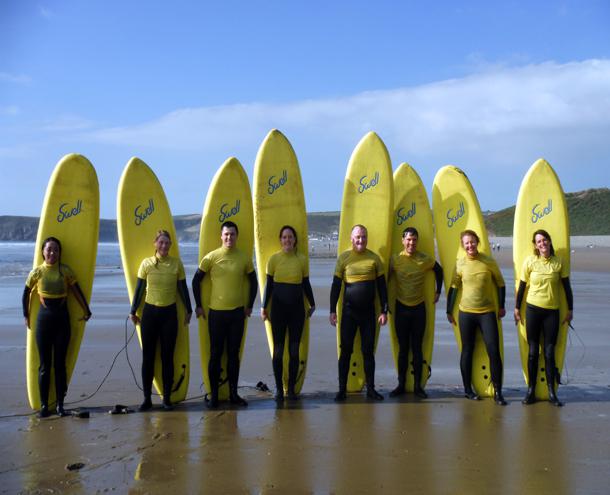 Surfing
Experience the exhilaration of surfing the clean Atlantic waves on a beautiful unspoilt beach.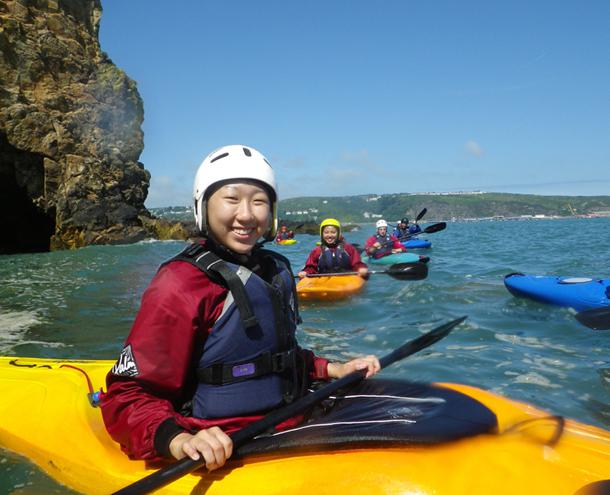 Sea kayaking
The best way to experience the high cliffs, seals and sea caves along the coast. No experience required, you'll be blown away by the awesome views.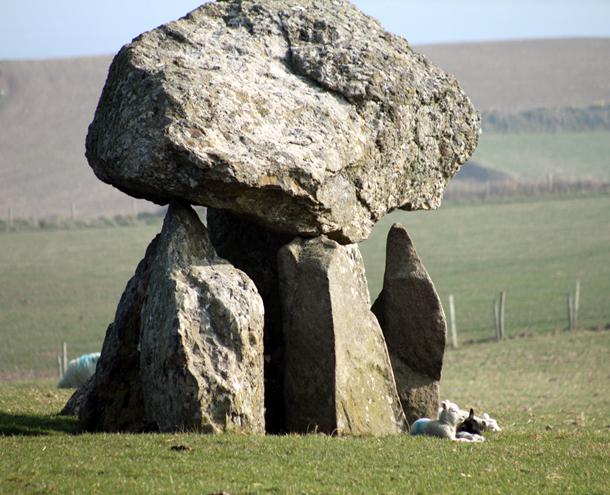 Myths and legends
Stop at Carreg Samson a 5,000 year old ancient cromlech or burial chamber, and discover a rich and fascinating ancient heritage.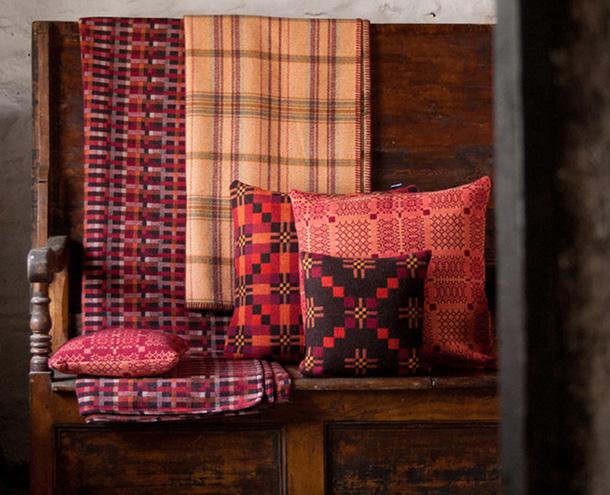 Melin Tregwynt
The skills and knowledge of Welsh weaving is alive and well at world famous Melin Tregwynt woollen mill.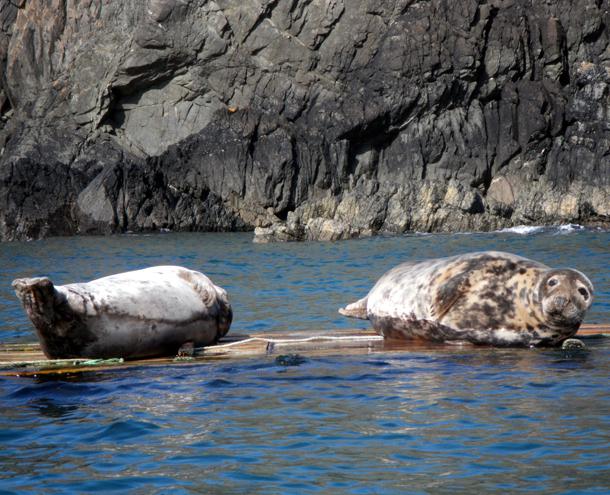 Fall seal spotting
The Fall is perfect for Atlantic grey seal watching. Spot the cute white pups and their parents on neaby rocky coves.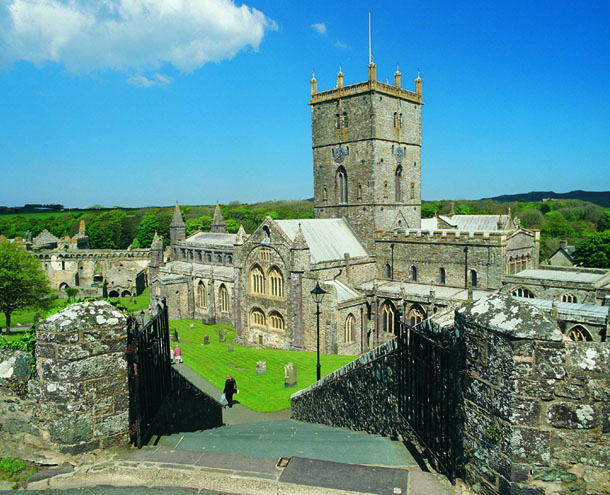 St David's cathedral
Named after the patron saint of Wales, St David's is the smallest city in Britain with its 12th century cathedral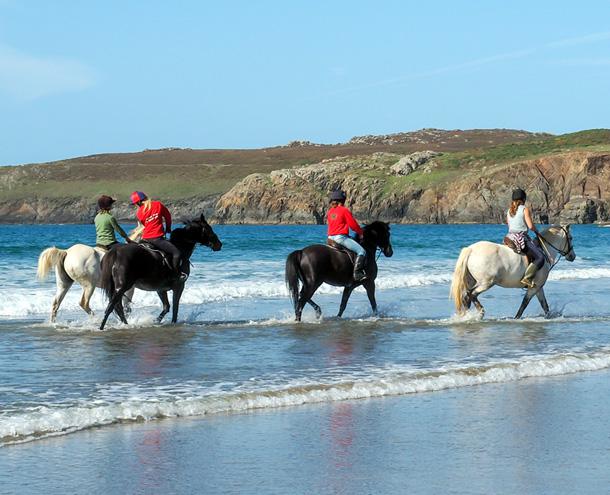 Horse riding
Enjoy the wonderful views from horse back at our local riding stables.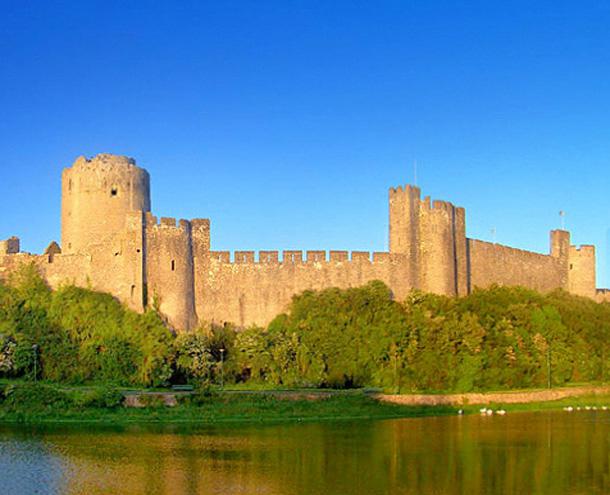 Pembroke Castle
Explore the birthplace of Henry VII, and enjoy this magnificent 13th century castle.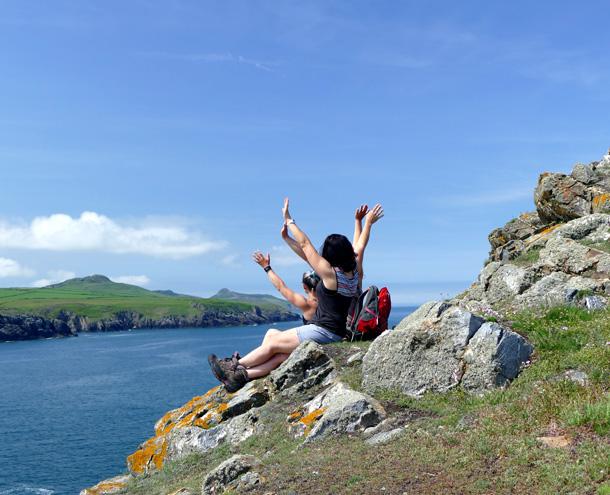 Hike the coastal trail
Hike the world famous Pembrokeshire cliff-top coastal trail and enjoy inspirational views out across the Irish sea and Atlantic ocean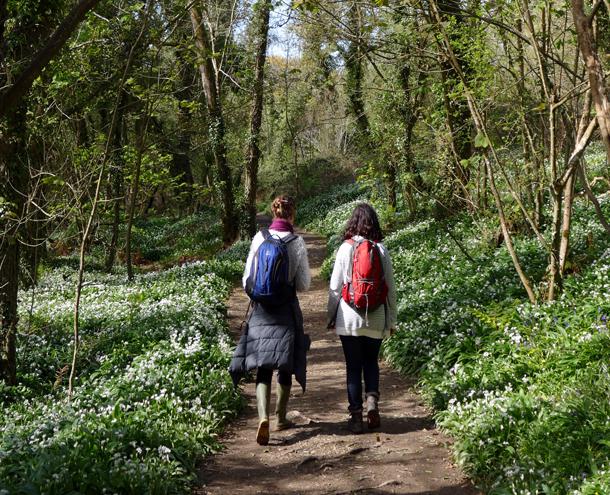 Woodland walks
Enjoy our lovely woodland and beach walks that take you out exploring right from the eco lodge. Easy to follow maps and info included.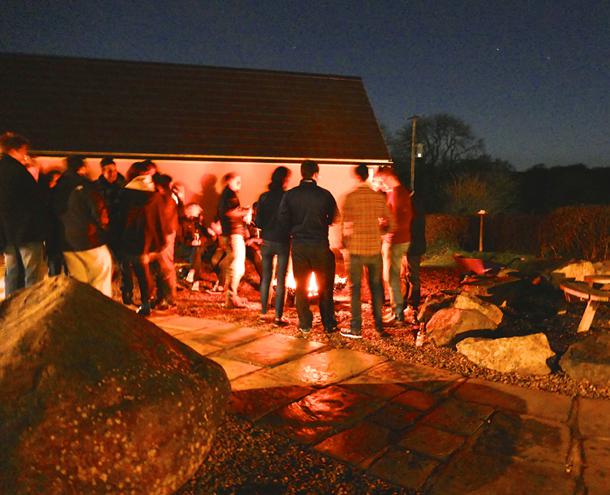 Evening campfire
Toast marshmallows and make smores around a blazing campfire under the stars. You're in a National Park!
Once in a lifetime experience
---
"Best weekend since being abroad. Thank you for a once in a lifetime experience! Amazing food and the staff were so welcoming and fun!"
Emily Akers April 2018
Wild Wales weekend programme
---
Friday: arrival for evening meal, relax around the wood burning stove in our lounge, or enjoy our pool table and Welsh drinks in the lodge bar.
Saturday morning: adventure – choose from coasteering, an awesome coastal adventure, sea kayaking, where you explore beneath spectacular high cliffs, and kayak into echoing sea caves, or surfing on a beautiful unspoilt beach.
OR visit to St David's, the UK's smallest city and 12th century cathedral. Explore the quaint shops and stop by the beautiful sandy expanse of Whitesands beach. Take a walk to Carreg Samson ancient 'cromlech' or burial chamber as you drive the scenic coastal route.
In the Fall we can offer to take you seal spotting – walk along the coastal trail and see seals and their pups on the rocky coves. This can be combined with the visit to St David's to make a cultural morning combined with seal spotting.
Return to the eco lodge for delicious lunch of traditional Welsh 'cawl a caws', chunky soup with Welsh cheddar cheese and warm bread, followed by Welsh cakes, yum!
Saturday afternoon: coastal hike along the famous Pembrokeshire coastal trail. Your choice of a 3 hour hike or 2 hour hike or just walk through the woods to the beach. You have the option to take a walk to a 17th century woolen mill just along the coast.
Sunday morning: another adventure (choose from coasteering, sea kayaking or surfing
OR full day trip to the impressive Pembroke Castle, birthplace of Henry VII.
What is Coasteering? It's the most amazing coastal exploration adventure involving climbing, swimming and jumping your way along the rocky coastline. No experience required for any of our activities, and as you will wear a flotation jacket, you don't even need to be able to swim!
The adventures are run right from the lodge, with professional friendly guides, all equipment provided including toasty warm wet suits to keep you warm all year round. We provide all the transport during the trip in our own minibuses, so everything is taken care of. All you need to do is enjoy yourself and soak up the freedom of the Welsh coast and countryside.
Top experience in the UK
Reviewed 3 May 2016 ★★★★★
The Preseli Venture trip! Hiking, surfing and coasteering through Wales is the perfect weekend. If you don't go on this trip, be prepared to hear everyone else saying it was the best thing they've done whilst staying in London.
Brie Liebering, Arcadia University
Frequently Asked Questions
---
When do the weekend trips start?
The programmes start on Friday evening. Typically students arrive into our local train station at 18.45, but later trains are available. You are welcome to arrive on Thursday evening which is an additional cost of £49 including delicious evening meal plus breakfast Friday morning. There are loads of lovely experiences and exploring to do on Friday, from local walks to discover hidden beaches to opting into extra adventures or excursions £49.
How do I get to Wales?
Your travel to Wales is not included in the weekend cost. We recommend taking the train, and ticket discounts are available if there are 3 people or more. We offer a free train station transfer at 18.45 from our local station of 'Fishguard and Goodwick'. From Paddington station in London, this train departs at 13.45. Don't worry if you need to leave later as there are other trains, with the last one leaving London at 19.15, and for later trains, you may need to pay for a taxi. If you are travelling from Ireland, the Fishguard – Rosslare ferry is just 5 miles away. On Sunday we take you back to 'Fishguard and Goodwick' for the train at 14.23. To purchase tickets use Llandrindod Wells ticket office on 01597 822053 (8.45-4.30)
How does the rooming work at the eco lodge?
We have 11 different bedrooms of different sizes from rooms for 2 people, double rooms for couples, up to larger rooms sleeping 6 or 8. We allocate separate male/female rooms taking onto account friendship groups, so please do request a specific room when you book.
Do I need to be able to swim? Is this suitable for beginners?
All our adventures are open to everyone, you don't need any previous experience, you don't need to be active or outdoorsy, just a "go for it attitude" is perfect! You don't even have to be able to swim as the flotation jackets are super floaty. For the water adventures, you do need to be able to pull on a wetsuit and we have a big range of sizes. Any queries regarding physical ability please do contact us.
Are all the meals included? Do you cater for vegetarians and special diets?
Yes, all the delicious home cooked meals and Welsh dishes are included and we are very happy to provide food for special diets including vegans and vegetarians, and those with allergies and food intolerances. Make sure you let us know your requirements when you book.
Can we book for a longer mid-semester break?
Yes, we have 4 night/5 days longer student programmes for your mid-semester break. Why not continue your travels over the Irish sea to explore Ireland – there is a cheap ferry from Fishguard, just 5 miles away, over to Rosslare in southern Ireland.
Is this trip open to friends who want to join me?
Yes, of course, friends and family are all very welcome! If they are travelling with you, they can also pay the student rate.
The weekend was jam-packed with super-fun activities!
Reviewed 27 March 2017 ★★★★★
I am an Florida State University student and my school did a trip over to Preseli for the weekend. The whole weekend was jam packed with super fun and adventurous activities. My personal favorite was the coasteering. The food was to die for. Great location about a 20 minute walk to a beautiful beach. Overall an amazing weekend and highly recommended for an adventurous weekend.
Savannah / FSU, USA
THE PERFECT CITY ESCAPE
Free your spirit and immerse yourself in the best adventures and experiences in Wales
Any questions about your wild Wales weekend?
---
Just call us on 01348 837709 or contact us and one of our team will be happy to help. We're looking forward to hearing from you soon.