A PERFECT ATLANTIC RETREAT
Eco-friendly lodge with 11 beautiful bedrooms
More about the Preseli Venture lodge
Nestled in the beautiful, wooded Abermawr valley, stay at our lovely 5 star eco lodge and soak up the peace and tranquillity of the perfect Atlantic eco retreat where you can escape from everyday life and re-connect with mother nature.
Take time out to gaze up at the starry night sky, listen to the morning birdsong and breath the fresh clean ocean air. Step outside and try a new adventure or a wonderful coastal walk and relax and appreciate the natural world around you. Enjoy the simple pleasures of sharing good times with your fellow adventurers, delicious local food and drinks in the company of colleagues, family or friends. The lodge is cosy and friendly and 'hygge' through and through!
The lodge boasts 11 comfy bedrooms – each named after an off-shore Pembrokeshire island Enter a warm, homely sanctuary and enjoy 'the sleep of the deep' after a hard day out enjoying yourself in this natural outdoor adventure playground.
Or choose to stay close to the woods in our fabulous geodesic dome at our lovely Preseli Glamping campsite for eco camping in spacious woodland glades.
11 Bedrooms in the lodge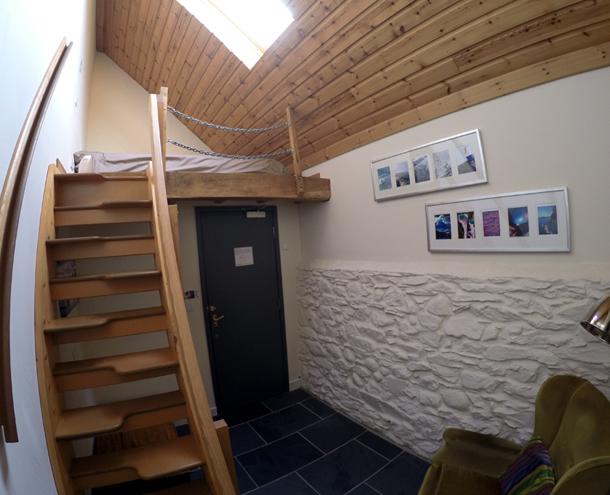 Bitches and Whelps
A characterful ground floor double room where you can gaze up at the starry night sky from your mezzanine bed.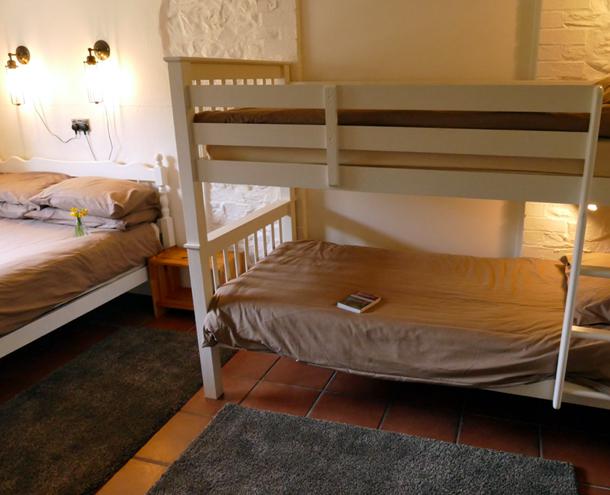 Ynys Meicel
A lovely light double room with super comfy double bed. Or perfect for a family of up to four with a double and a bunk bed. Also sleeps a group of three friends in comfort. Situated on the ground floor.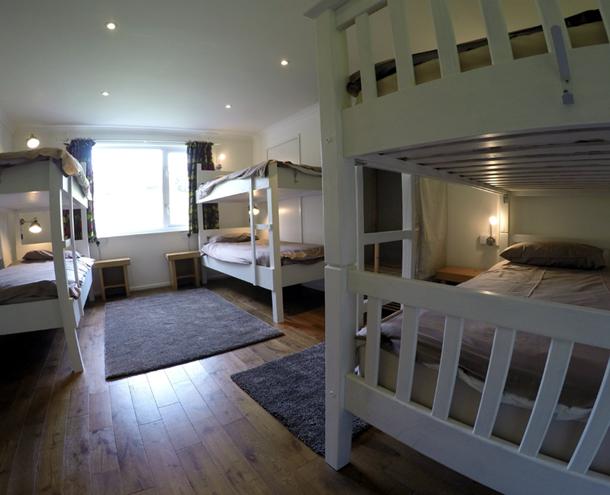 Grassholm
Light and airy large bedroom on the ground floor Grassholm sleeps up to six with three sets of bunk beds.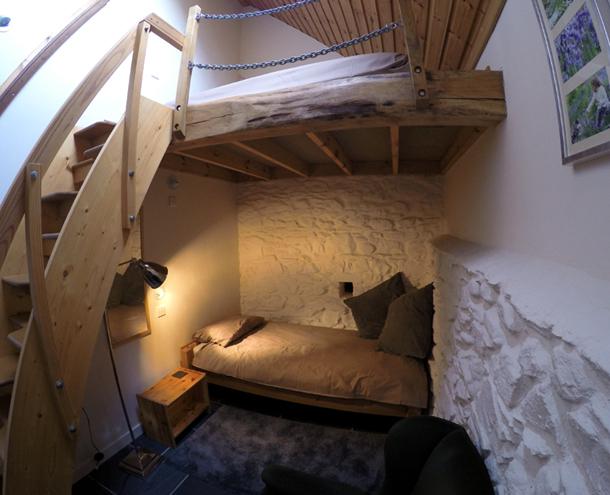 Hats and Barrels
A lovely ground floor double room sleeping two in the double bed. Or as a twin room using the double and single bed. Also perfect for a couple with one child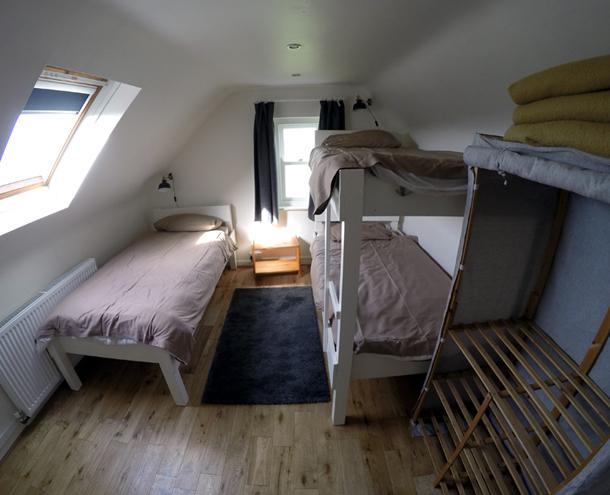 Ramsey
Fabulous views down to the sea, sleeping three with a bunk bed and one single. There is also the convenience of a small washbasin. Situated on a separate first floor next to Skomer bedroom and tucked away at the end of the lodge.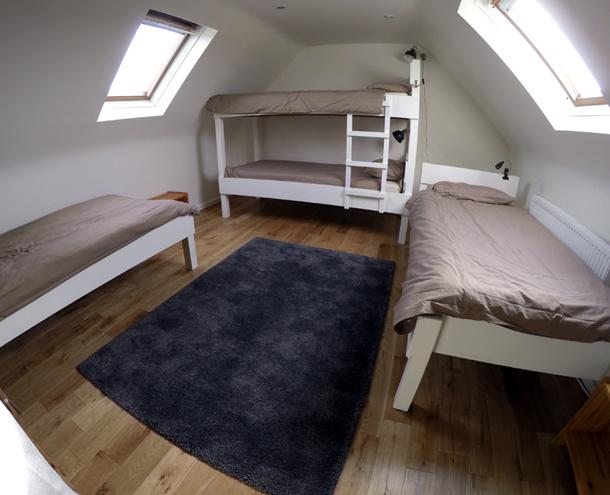 Skomer
A lovely room sleeping four – perfect for a family or small group of friends in one bunk and two singles. Tucked away next to Ramsey on a separate first floor.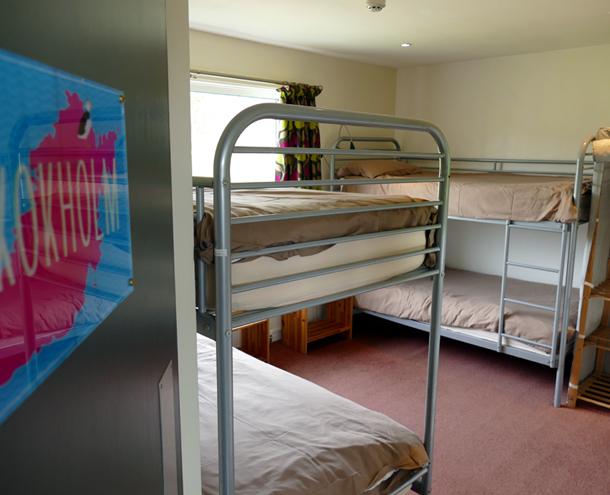 Skokholm
A spacious room – great for a family or small group and sleeps up to four in two bunk beds on the first floor.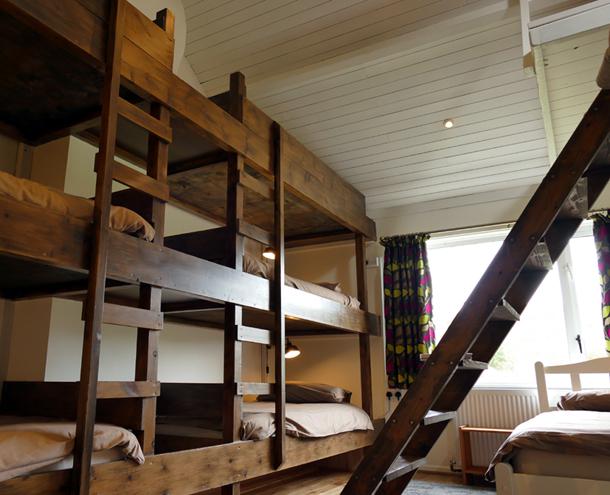 South Bishop
Great room for a group sleeping up to nine including a fabulous mezzanine platform for two, or perfect for a larger family of 5 or 6 with plenty of room spare for spreading out.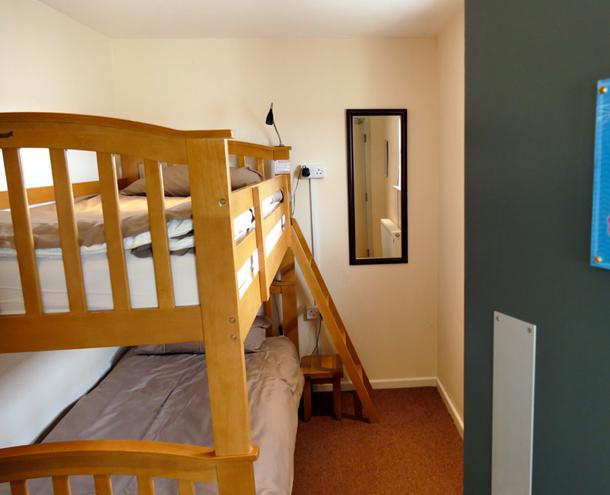 Ynys Bery
A cosy getaway on the first floor, Ynys Berry is a twin room with bunk beds.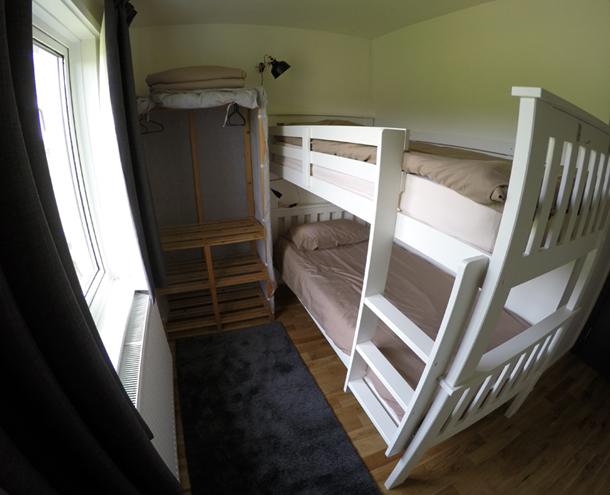 Caldey
A cosy room for two friends with one bunk bed, situated on the first floor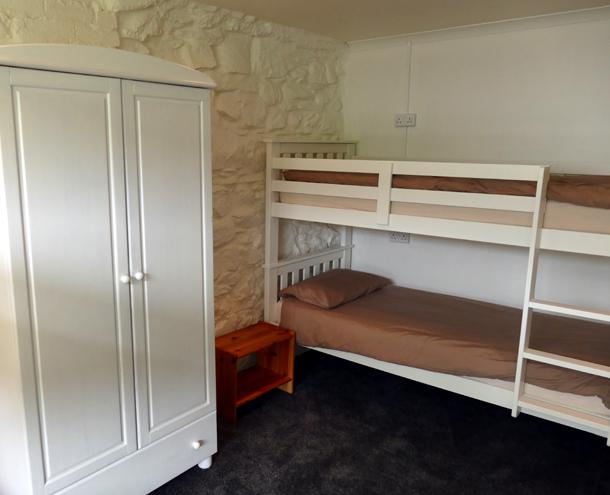 Carreg Rhosson
Sleeping up to four on the ground floor Carreg Rhosson has two sets of bunk beds.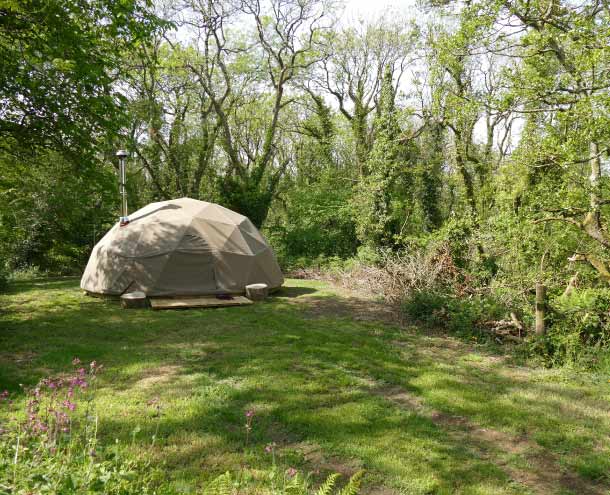 Geodesic Dome
Sleeps up to four with a double and two single beds. The dome also has a wood burner. See the Preseli Glamping site for details.
What is eco about the eco lodge?
---
Saving Energy – the Preseli Venture low carbon lodge
The lodge has been built with energy saving considerations at the forefront, and on a day to day level everything we do has sustainability at its core.
Insulation, heat and hot water, and electricity generation
The lodge is made from an Insulating Concrete Formwork (ICF) system called BecoWallForm, meaning the building achieves a very low U-value, the measurement of heat lost.
A ground source heat pump provides all of our hot water and central heating which uses ground loops buried beneath the field that transfer heat from the ground into the building. This system is very efficient, allowing huge carbon savings.
An array of solar water heating panels boost the generation of hot water. Above the lodge kitchen a 6kw array of photovoltaic panels generates electricity to run the compressor and pump for the heat pump and also the immediate needs of the lodge, and this also feeds into the national grid.
Extra electricity we draw from the grid is sourced from Ecotricity, a key investor in renewable energy. LED lighting has been installed throughout the lodge to further cut electricity consumption.
---
Dealing with waste, rainwater harvesting, recycling and composting
Dealing with the 'human' waste created by up to 40 guests in a rural coastal location which is completely off-grid in terms of sewerage was always going to be a challenge! A Klargester BioDisc system, which is a complete sewage treatment plant, means that we can be confident that we cause zero pollution in the Abermawr valley and the beautiful pristine beach.
At the equipment storage building, we've developed a system for rainwater harvesting utilising the large roof area. We store this water and use it for washing and rinsing the outdoor kit after its been in the sea, and for other outdoor water uses.
All of our paper, plastic, aluminium and glass waste is recycled and we have several compost bins which are filling up nicely with all of our fruit and veg waste and other compostable material.
Importantly we lead by example, encouraging our guests to recycle with the provision of recycling bins both outside in the courtyard and inside the lounge and bar. In the bathrooms we provide eco hand soap and shower gel, and also recycled toilet paper. The office has a lovely "growing roof" which also adds insulation for the office building.
Preseli was amazing!
Reviewed 3 October 2016 ★★★★★
My friends and I spent the weekend at the Preseli Venture Eco Lodge and participated in three of their activities and it was super awesome! It was an unforgettable weekend, the vegan conscious employees were superb. I'd recommend this place 100%.
B M / Glasgow, United Kingdom
Frequently Asked Questions
---
When is the lodge open?
The lodge is open all year (except we are closed for Xmas) for individuals, couples, families and groups to come and stay.
Is the lodge suitable for very young children?
Yes, you are welcome to bring your children under 8 for holidays at the eco lodge or to stay in the Geo Dome. There is plenty of room for a travel cot in the bedrooms and two of the double rooms also have one or more single beds so you can share with your younger children. Our chef is very happy to provide separate meals for younger children too.
Can I bring my dog on holiday with me?
Well-behaved dogs are welcome to come too but unfortunately we cannot allow dogs inside the lodge or dome. Guests typically have their dogs sleeping inside their car at night, and tied up by their cars in our private car park during the day.
Can I request a single room?
Yes, depending how busy we are in the lodge, we can sometimes offer single rooms. If we expect to be busy we may ask if you would share with one other person of the same sex, but please do check with us.
Can I book exclusive use for my group?
Yes we can offer exclusive use for larger groups of 15-45 people, depending on the time of year. We accommodate up to 42 guests in the lodge plus 4 in the Dome and discounts are available. Let us take away the hassle factor by coordinating your entire booking – from sending out invites to collecting payments and answering all the questions. We are happy to tailor make an event with special menus and activities to suit your individual needs, interests and budget. See the exclusive use lodge page.
WIN COASTEERING FOR 2!
Sign up to our newsletter for your chance to win
Any questions about your stay with us?
---
Just call us on 01348 837709 or contact us and one of our team will be happy to help. We're looking forward to hearing from you soon.