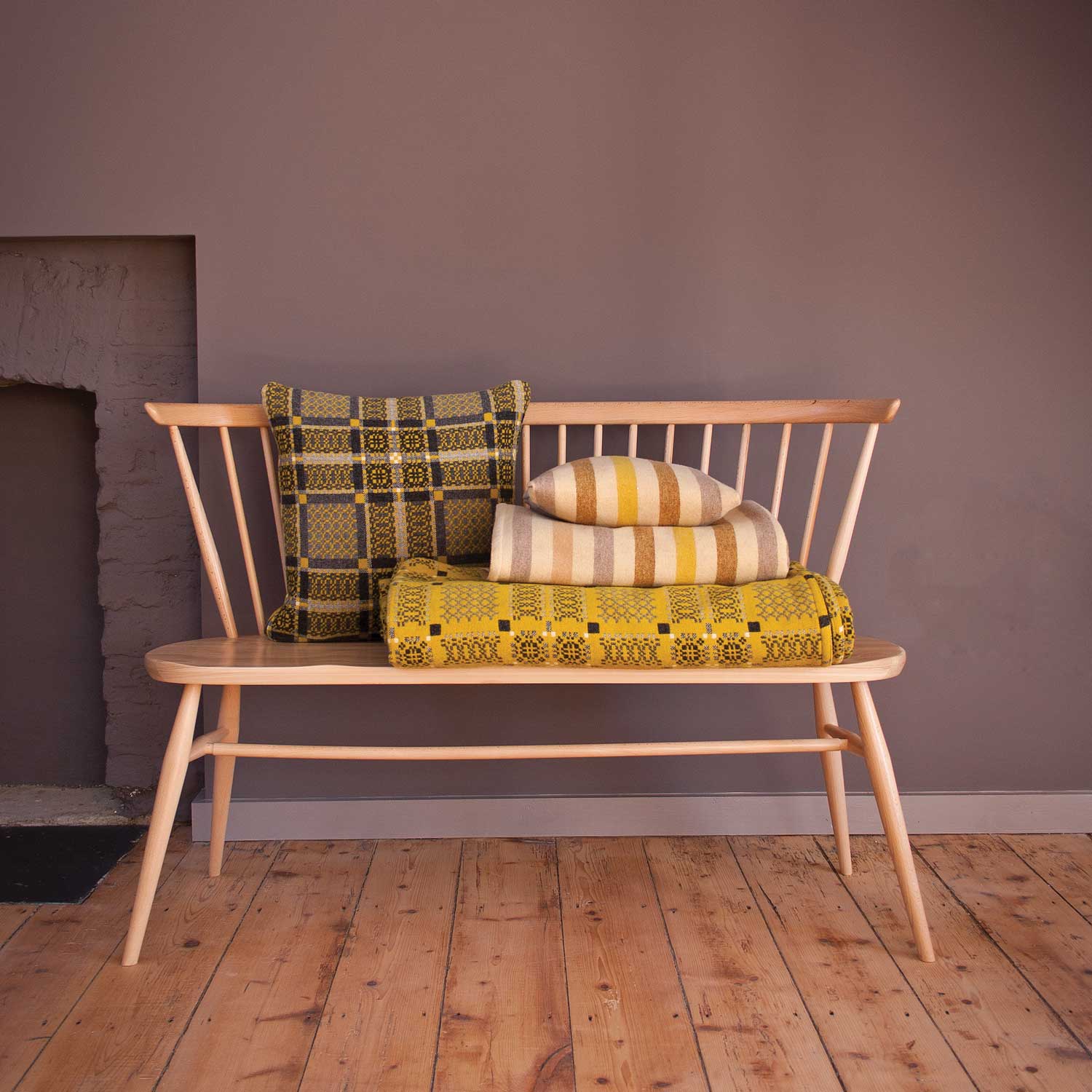 In Focus: Melin Tregwynt Woollen Mill
Let's zoom in on one of our most interesting neighbours, a small white-washed woollen mill with a restored water wheel down in the wooded Abermawr valley. Melin Tregwynt has been weaving from Welsh sheep's wool since the 17th century and it's been run by the same family for over 100 years, using traditional looms and methods. Their bold and iconic double cloth or "tapestry" patterned Welsh blankets and upholstery tweeds fly off the looms and into homes all over the world, with a timeless vernacular style that is quick to capture the imagination of anyone with a love for natural produce, interior design, fashion and Welsh history.
"Woven in Wales, these fabrics are the product of a way of thinking, of working and of living handed down through three generations of our family business. The skills and knowledge of all the staff, both past and present, keep the tradition of Welsh weaving alive at Melin Tregwynt".

melintregwynt.co.uk
A peaceful haven for walkers
Melin Tregwynt falls on the path of a beautiful scenic walk from the eco lodge through the National Trust woodland, via the secluded beaches of Abermawr and Aberbach, and back up through the valley. It's a welcome rest stop for walkers of the Pembrokeshire Coast Path and the perfect place to enjoy an afternoon tea with homemade welshcakes and barabrith. And whilst you're there, visitors can browse their shop which has a gorgeous selection of blankets, throws, cushions and clothes, all made onsite.
Our Winter Weekends are the perfect chance to visit the mill: a Friday – Sunday break with just one adventure activity leaving lots of time for Wintry walking and allowing you to delve into the rich cultural history of the surrounding landscape.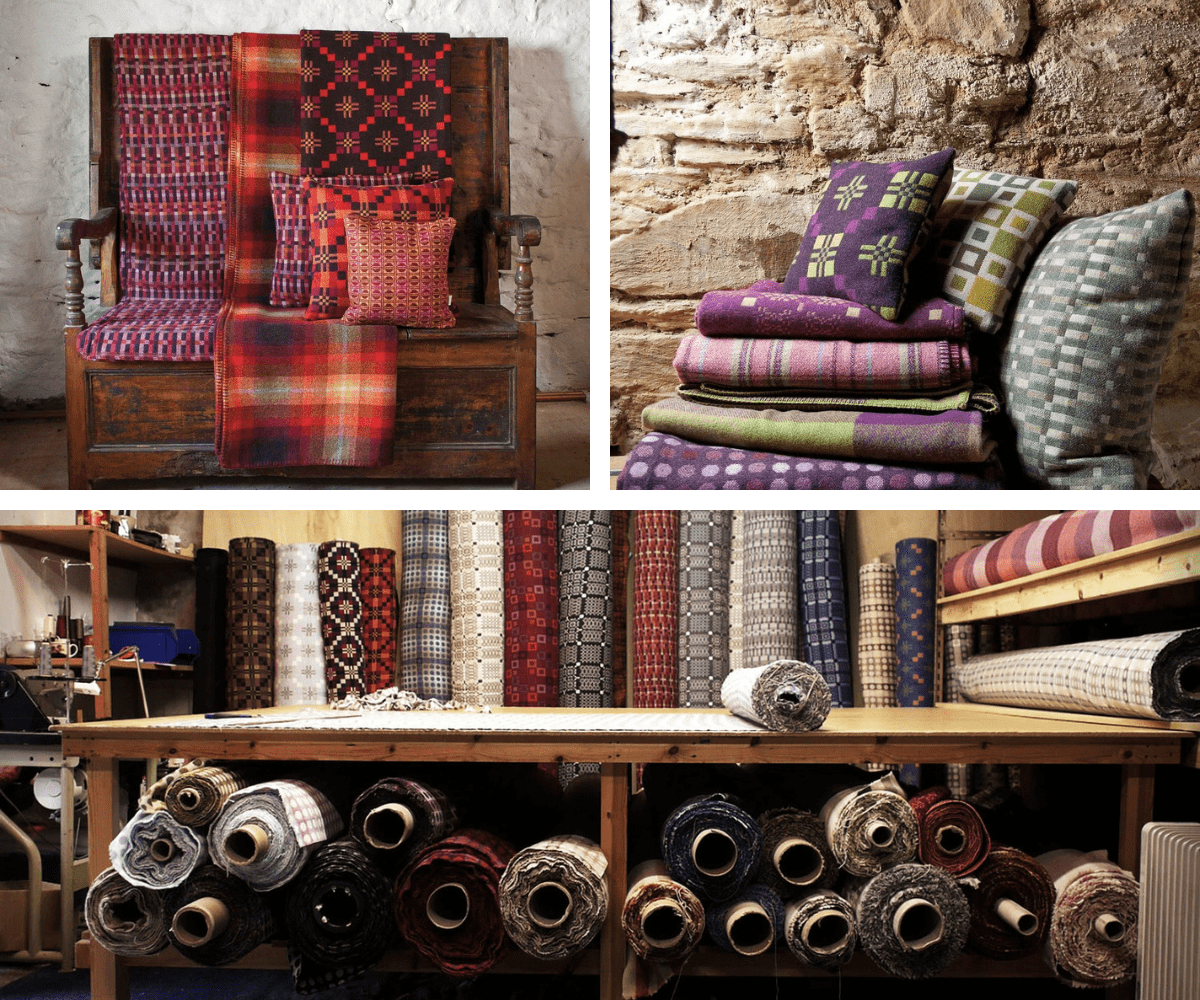 A tightly woven community
The mill has been in the family of the Griffiths family since 1912, but 110 years later in 2022, directors Efion and Amanda Griffiths recently transferred management of the mill to an employee-owned trust as they felt their passionate and highly skilled staff were the best community of people to carry the business forward! The threaders, weavers, menders, cutters, designers and sewers alike share a philosophy centred around making products that are intricate, beautiful, useful and of exceptional quality, with a positive impact on the environment.
"Each fabric we make is unique and only produced here in Pembrokeshire; where the skills and knowledge of our staff go into making every piece beautiful, useful and that little bit special".

melintregwynt.co.uk/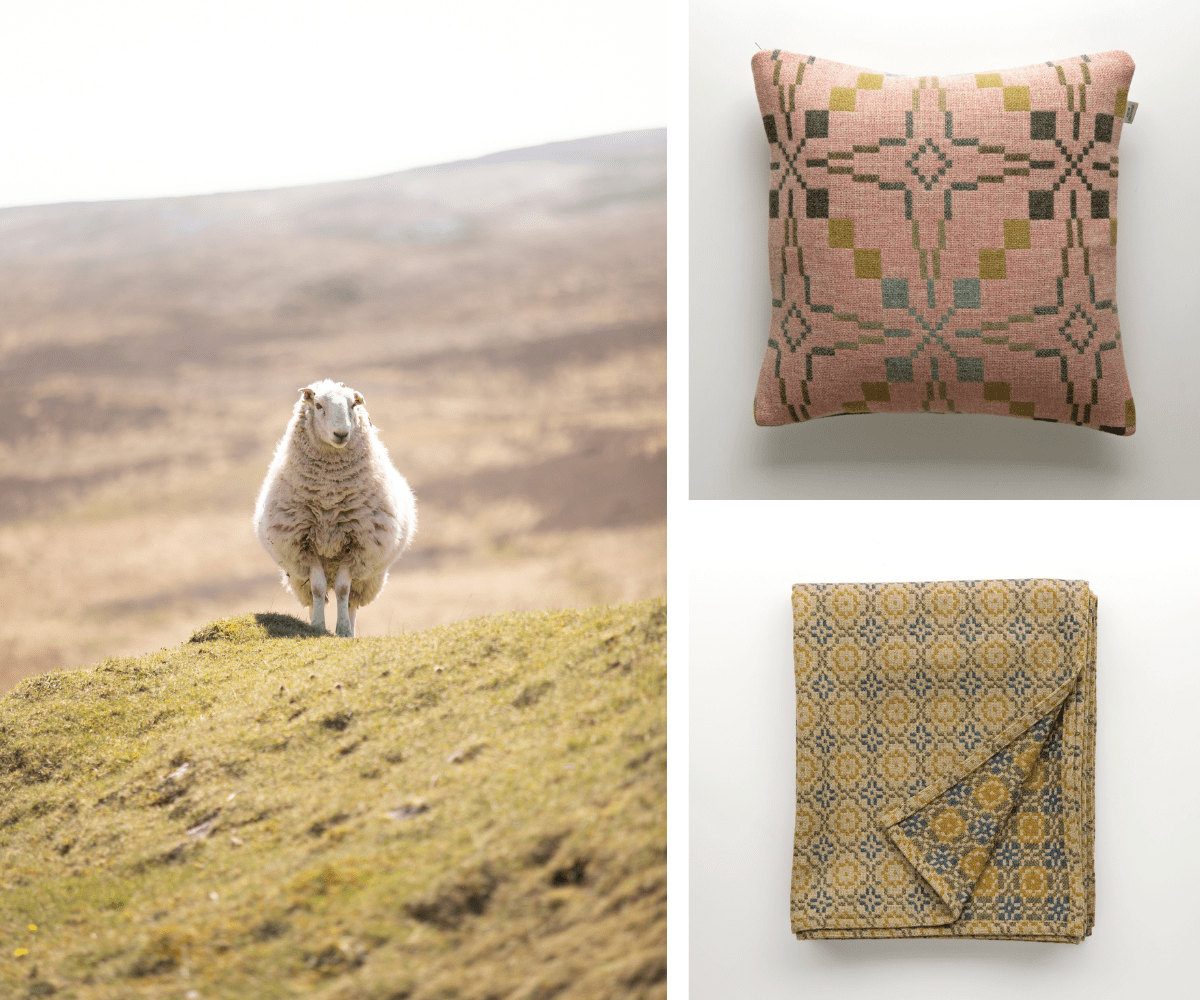 The wool at Melin Tregwynt is sourced from free-to-roam sheep in the Cambrian Mountains, facilitated by the Cambrian Wool Initiative. Their premium wool is the highest grade of a Welsh breed called the "Welsh Mule" known for its lustre and fineness.
Why choose wool?
The Pembrokeshire coast has a prolific industrial history. Wool in particular is a huge part of our heritage, but it has also stood the test of time. Natural wool fibres are amazing at protecting us from the wild Welsh elements and regulating body temperature. Wool is antibacterial and odor resistant. It's also a fully renewabe resource which is biodegradable and a natural part of the carbon cycle. The average wool garment has a life of 2-10 years, much longer than most other fibres! And at the end of its life cycle, a wool garment can be upcycled and respun, contributing to a sustainable circular economy.

"It is a fantastic opportunity to be able to return to the roots of Welsh weaving; combining locally sourced yarn with beautiful design in order to create a premium Welsh product for our customers".

melintregwynt.co.uk
Visit Melin Tregwynt's website to find out more or pop in whilst staying with us at the eco lodge. You might like to factor a visit to the mill into your Winter Adventure Weekend or Walking Holiday. We think visiting the woollen mill is an essential way to situate yourself in the incredible landscape of the Abermawr Valley and take a walk through its history. Well… when in Wales!