PICK YOUR ADVENTURE
Choose your activities, choose your duration – we're totally flexible
Adventure programmes for schools
We're happy to tailor make the perfect adventure programme for your school based on your specific school and pupil's individual needs and learning requirements. We cover end of year school trips as well as curriculum based school residentials.
If you're looking for some ideas and inspiration take a look at our tasty menu of activities below, and see examples of our 3 most popular school programmes. Preseli Venture have KS2 and KS3 curriculim based programmes from one to three days with inspirational outdoor learning and team building and leadership work at the heart of everything we do all based in the natural beauty of the Pembrokeshire Coast National Park.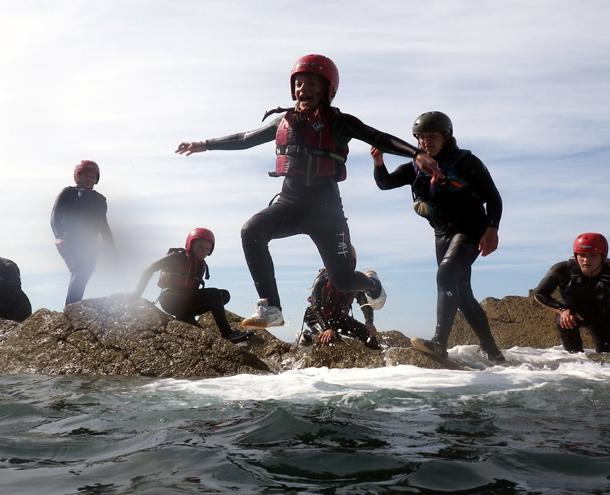 Coasteering
involves so much fun as you traverse the rocky shore at sea level, climb, swim and jump as you explore along the coast. Swim into sea caves and get up close to the life on the rocky shore, a truly unique experience. In house skills progression for modular learning for pupils also available.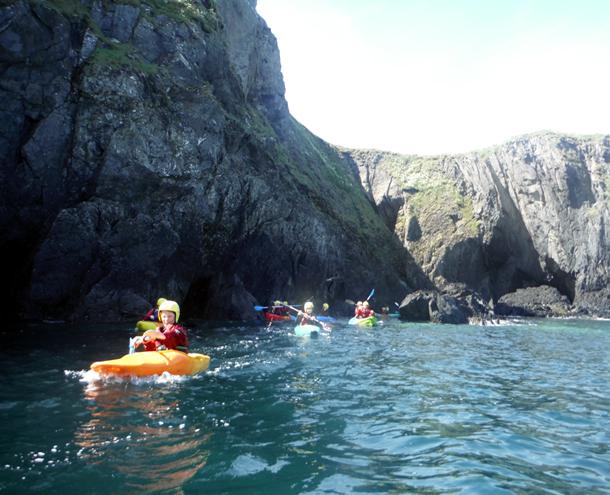 Sea kayaking
explore beneath soaring sea cliffs, discover and learn about the marine environment and incredible wildlife. British Canoeing pupil progression available through a modular learning programme.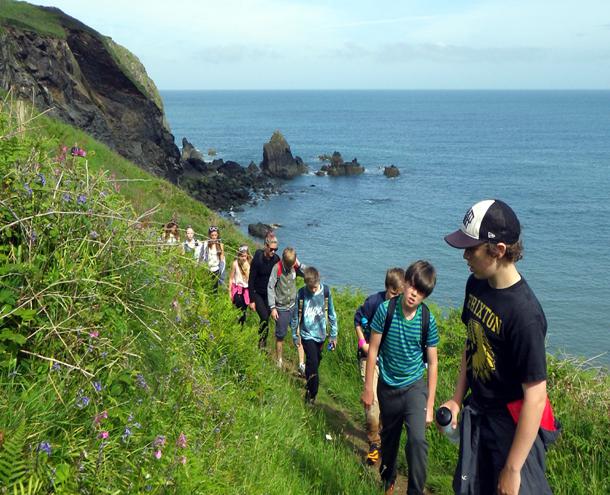 Coastal hike
feel part of Wales' diverse heritage and breathe in the culture amidst spectacular cliff top scenery.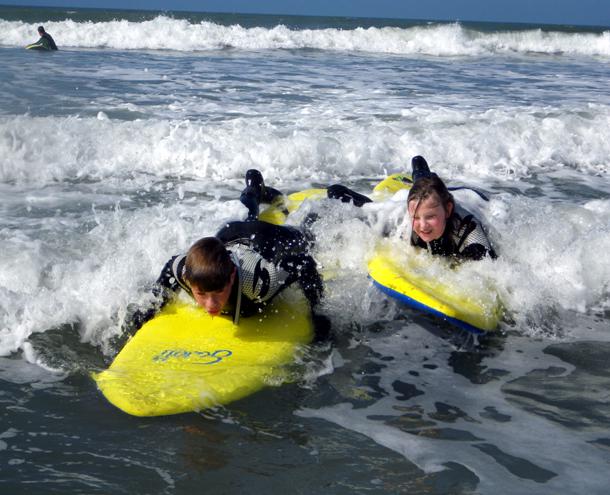 Surfing
the art and science of riding ocean swells on Pembrokeshire's unspoilt sandy beaches and clean seas. pupil progression available through Academy of Surfing Instructors structured training modules.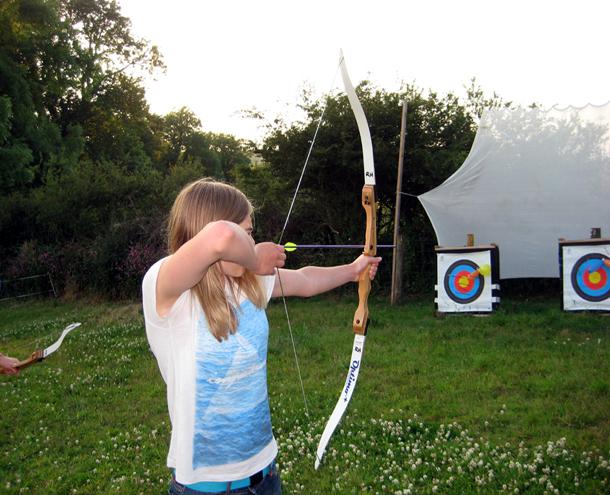 Archery
try your aim and learn a new skill on site here at the eco lodge.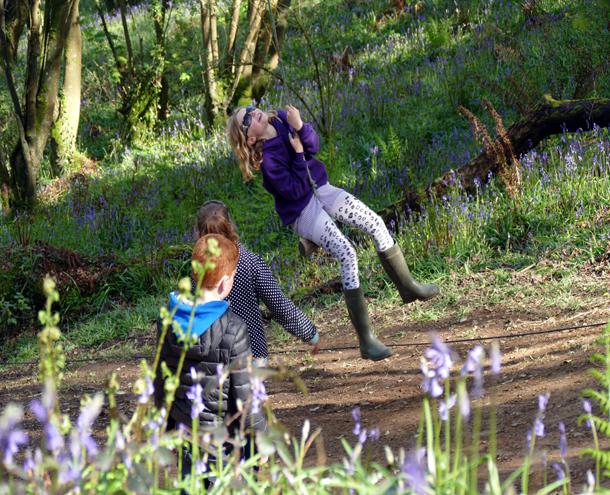 Woodland walk
the eco lodge is next door to a magical national trust woodland, just waiting to be explored.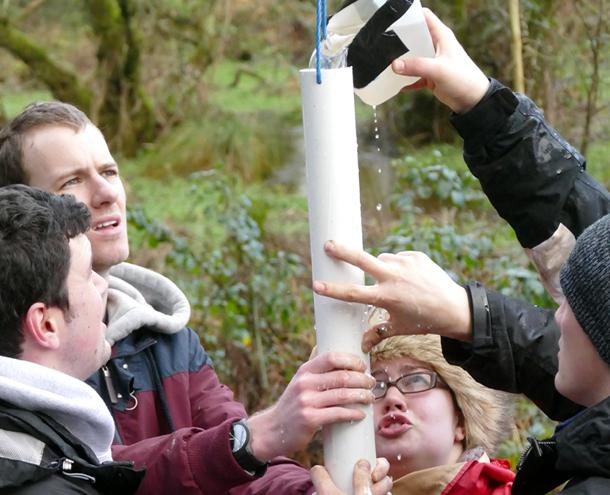 Abermawr challenge
our unique orienteering style challenge, discovering the local wooded valley.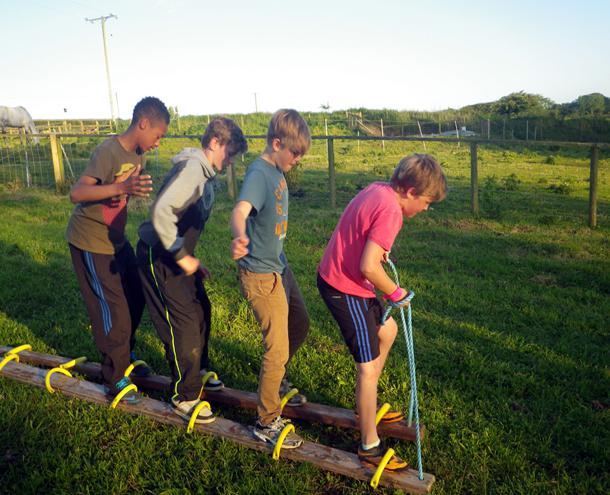 Team challenges
a wide variety of tasks and games led by our experienced guides, tailored to your objectives.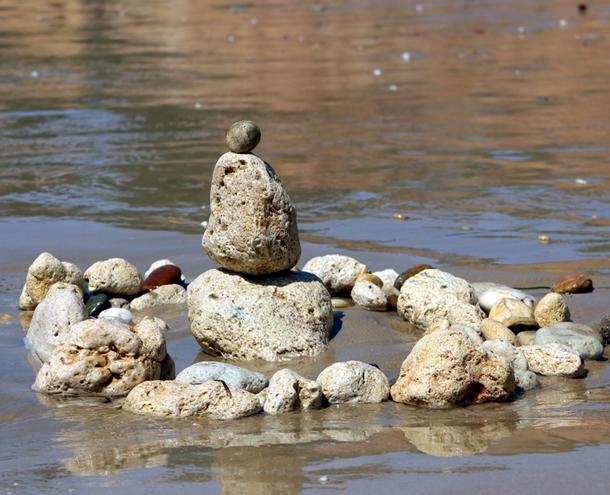 Beach foraging and art
opportunity for pupils to get creative at our local beach and learn about the diverse rocky shore environment.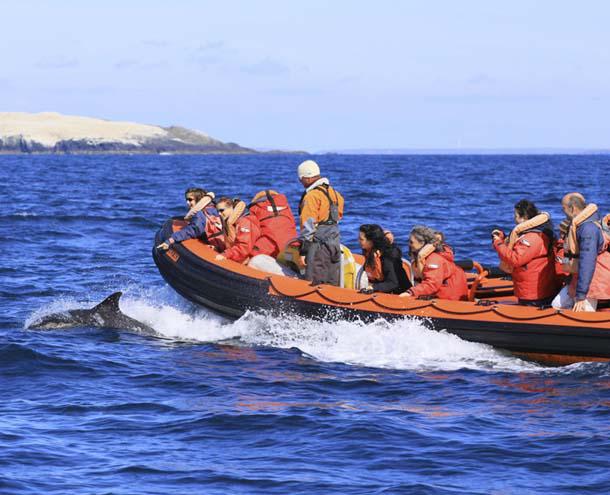 Wildlife boat trip
circumnavigate Ramsey Island looking for Atlantic Grey Seals and Harbour Porpoise along with a plethora of other sea life.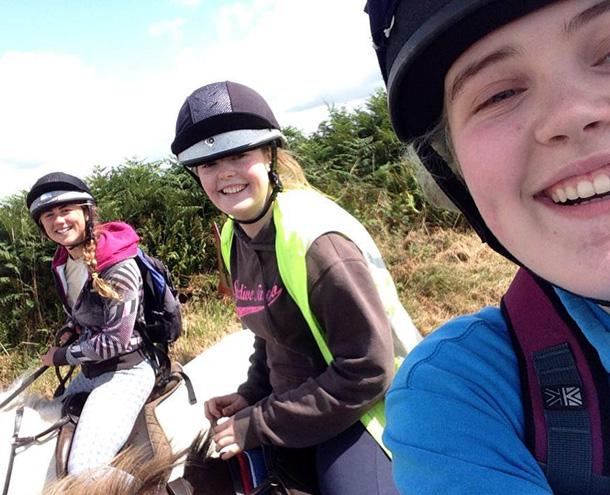 Horse riding
trekking on the beautiful north Pembrokeshire coastline, pupils are in safe hands with a well established stables.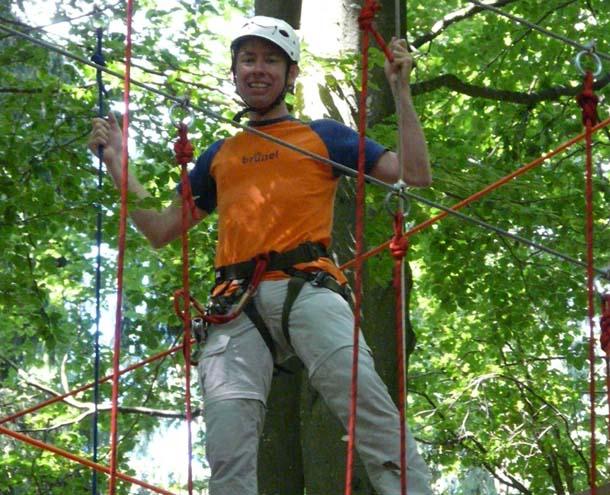 High & low ropes
an exciting experience which will challenge pupils and leaders alike. Sessions can be planned to focus on different objectives.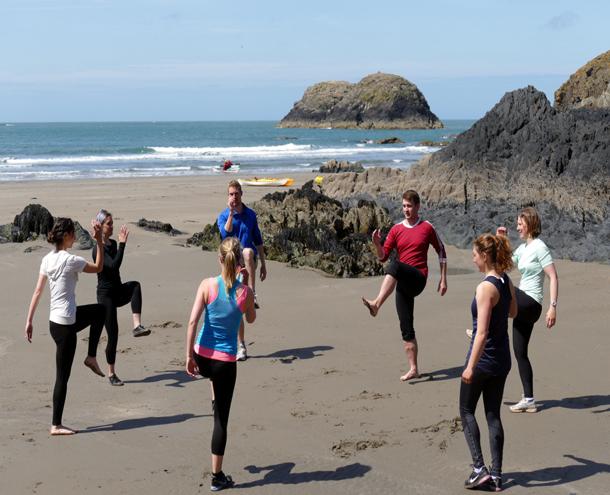 Beach games
our local sandy beach is the perfect location, providing space to run freely with organised energetic team games.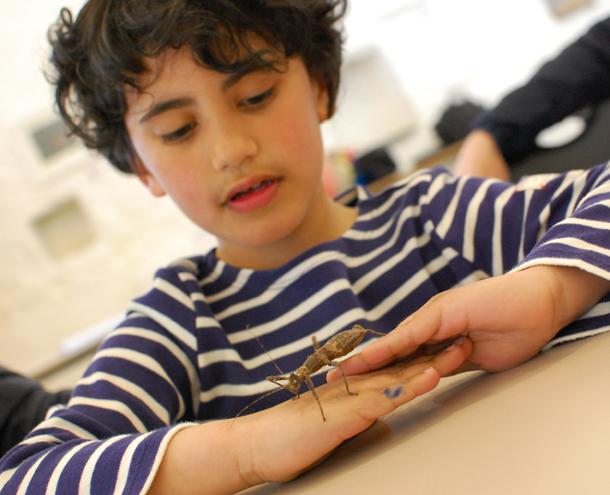 Bug farm
an enthralling range of experiences centred on invertebrates from around the globe. Interact, see and understand the world from their perspective.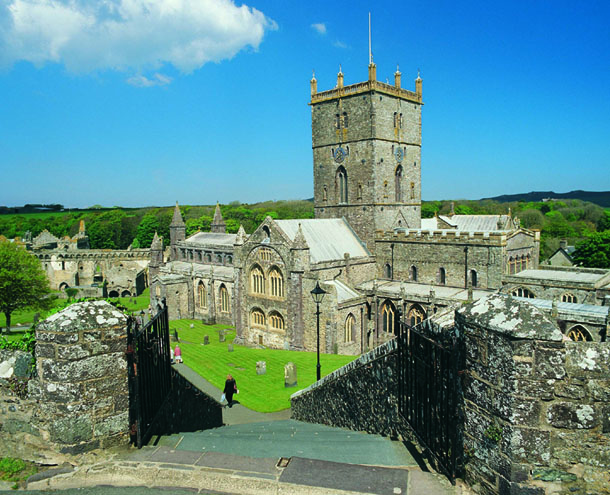 St.David's city
visit Britain's smallest city which is steeped in history and culture and host to a spectacular cathedral.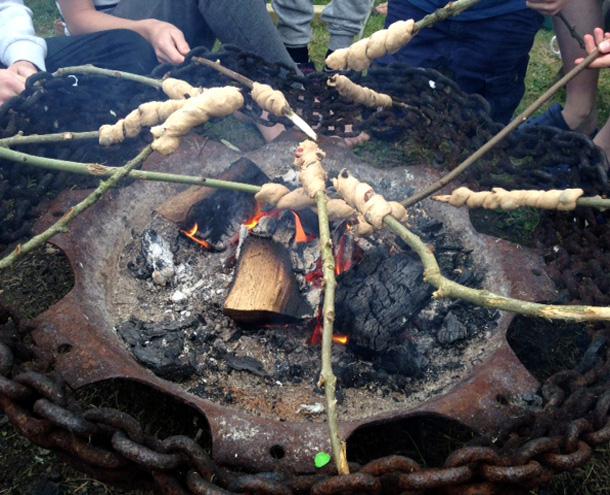 Bushcraft
an immersive outdoor learning experience, utilising our natural environment, without the need to put on a wetsuit!
Couldn't have been a better trip.
Reviewed 16 September 2016 ★★★★★
My daughter came as part of her year 11 Leavers week. She has a heart condition but they ensured she was safe and able to participate in all the activities. She is also gluten free, but they had appropriate and delicious food for her to match everyone else's each day. We would have no trouble in recommending Preseli Venture to anyone.
Mother, Bowbrook House School
Popular programmes
---
These can be tailored according to your preferred choice of adventures and activities
Residential 5 days / 4 nights
Monday arrive in time for lunch, followed by a PM coasteering adventure. Evening – Walk through National Trust woodland to our local beach Abermawr and beach games
Tuesday AM Beach foraging and Beach Art PM surfing lesson at Newgale beach. Evening –Team building games based in the ecolodge grounds
Wednesday AM, sea kayaking coastal exploration and sea caves and PM Abermawr Team Challenge involving orienteering skills and team exercises. Evening – Bushcraft based in the ecolodge grounds
Thursday AM coastal hiking with wildlife spotting and PM coasteering session at a different venue – no two coasteers are ever the same. Evening – Team games (volleyball, football and rounders), Bonfire and toasting marshmallows, (OR Film evening) and prizegiving and certificates
Friday Jet boat ride around Ramsey island RSPB, or Horse-riding or High and Low ropes course – lunch and depart
Pricing – Free staff place with each group of 10 pupils. The above event outline is priced at £359 to £389 per child plus VAT (based on a group of 20 + 2 staff), plus the jet boat (approximately £16 per child) and is a full programme of daytime adventures and evening activities led by our staff.
Residential 3 days / 2 nights
Monday arrive in time for lunch, followed by a PM coasteering adventure. Evening – Walk through National Trust woodland to our local beach Abermawr and beach games
Tuesday AM sea kayaking basic skills and coastal exploration and PM Abermawr Team Challenge involving orienteering skills and team exercises. Evening – Bonfire and toasting marshmallows, and prizegiving and certificates
Wednesday AM Surfing lesson based at nearby beach, lunch and depart
Pricing – School trip costs are £208 plus vat per pupil with free staff places. Exact cost will vary dependent on numbers and programme.
School adventure days – Coasteering, Sea Kayaking and Surfing
Morning activity 9.00 – 12.45
Lunch at the ecolodge 12:45- 1:45
Afternoon activity 1:45 – 5.30
Pricing – £40 per pupil per half-day, £75 per pupil full day, Lunch £5 per pupil
We'd love to discuss your needs and build the perfect programme for your school.
---
Just call us on 01348 837709 or contact us and one of our team will be happy to help. We're looking forward to hearing from you soon.