Geodesic dome holidays at Preseli Venture
We have our lovely new Dome from Home!
Sitting happily and tucked snugly on our land below the eco lodge and nestling on the edge of our beautiful woods we now have our new Preseli Glamping campsite!
This is a spacious low environmental impact structure which forms our latest innovative and eco-friendly accommodation, your Dome from Home.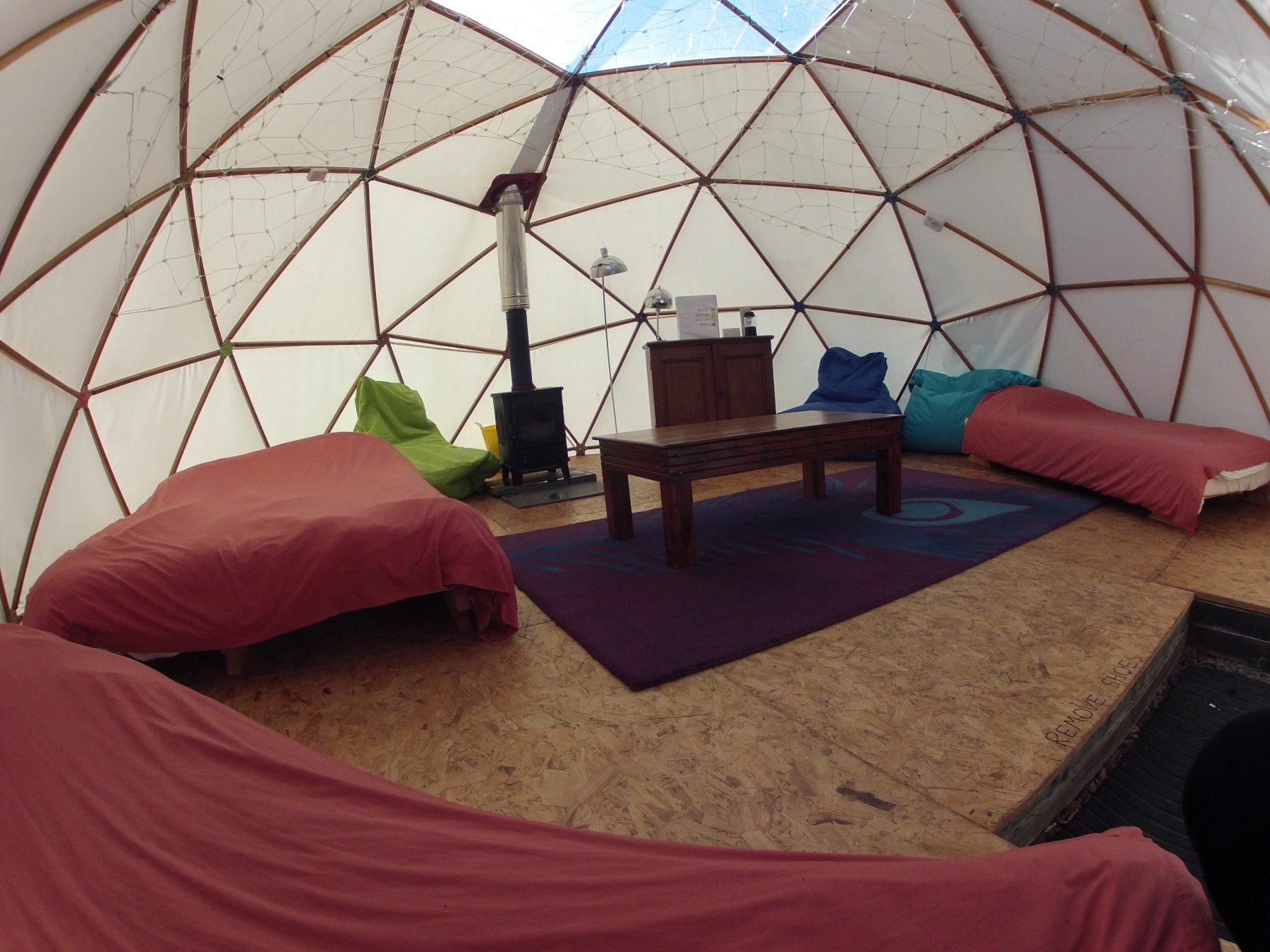 The perfect place to enjoy some woodland "glamping" with family or friends, you can enjoy the delights of luxury camping amidst the melodious woodland birdsong. The Dome is tucked down in the beautiful wooded Abermawr valley, within sight of the sea and the peaceful sandy beach just a one mile walk through National Trust woodland.
The Dome is a beautiful structure made from canvas and oak and crafted by our friends at Trellyn camping at Abercastle, just a couple of miles down the coast. The structure consists of alternating hexagons and pentagons made from oak spars, held together by stainless steel nodes, and the whole structure is given rigidity as the stress is distributed across the structure.
The Dome sleeps 4, with a double bed and 2 singles, ideal for a family, a couple, or a group of friends. You can squeeze another put up bed in too if you need to sleep 5. The Dome also has electricity so you are blessed with the modern convenience of electric lighting and the ability to plug in your lap-top, ipod and phone!
The best bit is the delightful wood-burning stove situated inside the Dome to keep you really cosy whatever the weather!
The Dome comes complete with a bonfire area and picnic table for outside dining. If you prefer you can opt into meals in the lodge and all the lodge facilities are available to you – showers and bathrooms in the lodge, free WiFi in the bar and lounge and the use of the lodge lounge and bar whenever you want.
We also invite you to make the most of your stay here on the wonderful Pembrokeshire coast by booking into our adventures: coasteering, sea kayaking and surfing are all available for adults and kids of 9 years and over.
We are just a one mile walk from the coast path for fantastic coastal cliff-top walking.
We are renting the Dome from £395 per week so please do come join us. email or call 01348 837709 to book or for more information.