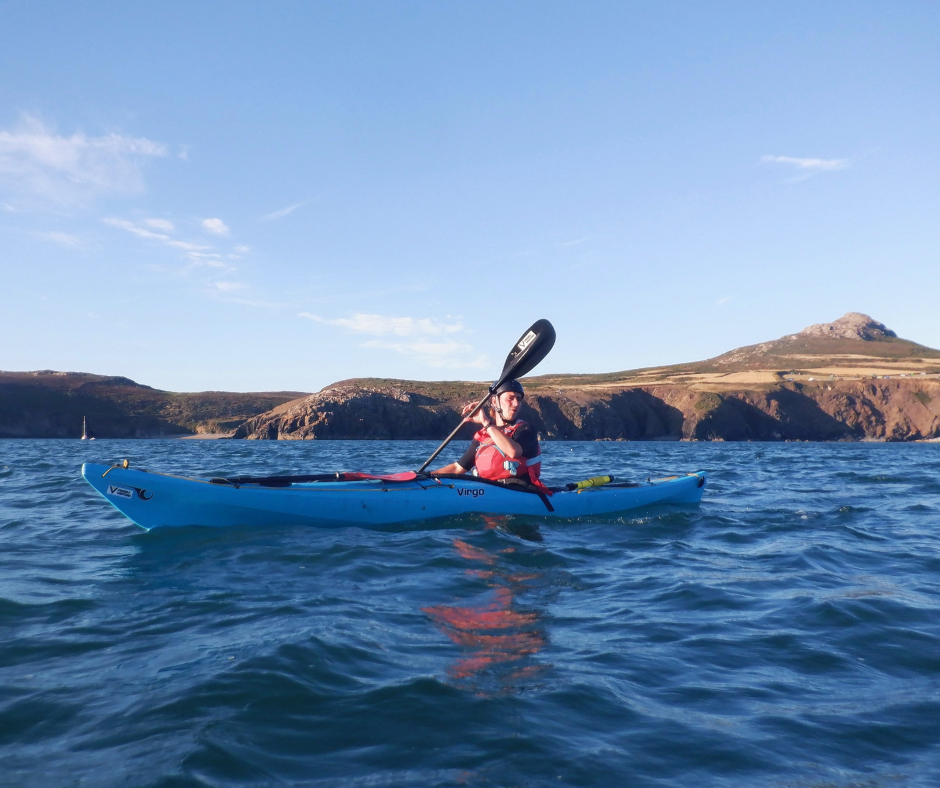 Event Spotlight 🔦 Easter Kayak Odyssey 9th – 13th April 2023
From secret smugglers coves to mystical sea caves, amongst playfully inquisitive grey seals and diving peregrines, sea kayaking on the Pembrokeshire Coast makes memories that last.
What happens on a sea kayaking break at Preseli Venture?
Sea Kayaking under immense sea cliffs and gazing into the aquatic world beneath you, crystal clear aquamarine waters and clean Atlantic sea air are the backdrops to your coastal explorations. Enjoy the peace and tranquillity of paddling through remote rock gardens and let your imagination drift seamlessly into the rich and palpable history and mythology of this magical seascape, punctuated by cascading waterfalls and sculptural rock formations. Delve into the astounding variety of coastal scenery in North Pembrokeshire, with fascinating features to be found around every craggy outcrop; from magnificent rock arches to booming blowholes! Read the full details of our sea kayaking weekends and holidays.
What's included?
3 or 4 nights accommodation at the eco lodge with home-cooked food from Sunday evening meal to your packed lunch on Wednesday or Thursday.
3 or 4 full days out sea kayaking.
All specialist equipment and qualified guides.
Minibus transport to and from sea kayaking locations.
What's the date?
Sunday 9th April – Thursday 13th April 2023
What's the venue?
Preseli Venture – staying at the eco-lodge and adventuring on the Pembrokeshire coastline.
What's the cost?
3-day Odyssey: £525 per adult
4-day Odyssey: £685 per adult
What if I can't make that date?
You're welcome to join us any time! Browse all of our events.