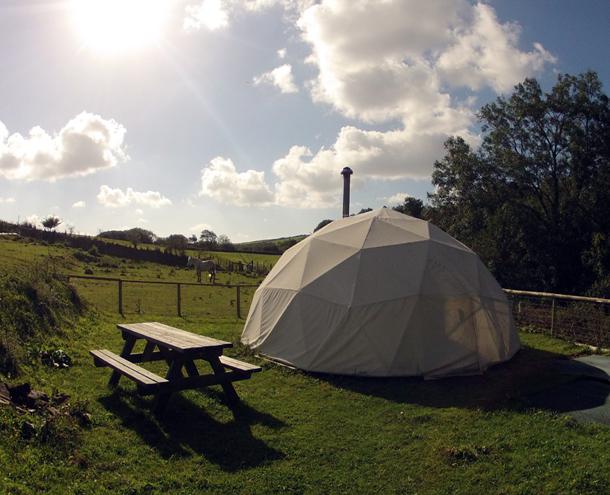 Camping in Pembrokeshire
There are some awesome campsites in Pembrokeshire…
Of course we love it when people come and stay with us in the eco lodge, but there is just something about a night spent out under the stars, with just the thin shell of the tent separating you from the elements.
Combine that with the rustle of the trees, or the boom of the crashing surf, and our little corner of West Wales definitely has the pick of inspirational spots for setting up your canvas home.
So, whether you're after some glamping, tipi or yurt holidays, or some campfires, here are some of our favourite places to camp in Pembrokeshire, if you have another special place that you can recommend in Pembrokeshire, please add it in the comments!
Trellyn tipi and yurt holidays
Trellyn is a truly special place, run by some lovely peeps, Clare and Kevin Bird. They have tipis, yurts and they also offer pitches for regular tents (just 5 though, they keep it small and exclusive here). But you'll need to book up quickly if you want to stay, as often they're all booked up the year before!
Ty Parke family camping
Ty Parke is just a hop skip and a jump from Preseli Venture. This is another beautiful, small scale campsite (just 10 pitches) where campfires are welcomed!
Caerfai Bay camping
Overlooking the cliffs and the sandy bay at Cearfai, it can get really busy over the summer but comes very highly recommended.  Plus, our friend Linda makes the organic Caerfai cheese here, delicious 
Rhydhowell Farm camping and nature train
If you're looking for a place to pitch closer to the hills, then Rhydhowell Farm looks like it will be just the ticket. The farm is close to the Preseli Hills, and the Ceredigion coastline. As well as regular spots, they have a couple of 'hideaway pitches', which are little private secluded spots, away from other campers.
Newgale campsite
Newgale is a super popular spot to pitch a tent. Although it's next to the road, it really is a stones throw from the beach, and is therefore a very popular spot for surfers and kayakers. A great spot if being next door to the beach is a must.
Shortlands Farm camping
Recommended by our friend Kate. This is a basic, but very friendly campsite, with glorious sea views out into St Brides Bay. At only £5 per person per night, this looks like a lovely little spot.
Big blue yurt hire
Now, not strictly a campsite – these are our chums at Big Blue kitesurfing that offer yurt hire in Pembrokeshire. Basically, you book the yurt, and they can put it up for you at the campsite of your choosing.
New for 2018 – Preseli Glamping
We will be opening our very own Abermawr campsite next spring, situated just next to the eco lodge. Perfect if you are joining us for some adventures, walking the coast path or just want to enjoy the peace and tranquility of the beautiful Abermawr valley.
Oooh and if you *like* the idea of camping, but the reality of sleeping under canvas proves not so appealing how about sleeping in a classic VW campervan? Our friends Pembrokeshire Classic Campers offer campervan hire, what an awesome way to explore!